Catch 122 in Gastown recently celebrated its 1.22 (translated to roughly 15 months) anniversary.  Modern Mix Vancouver had a chance to stop by, have a chat with the owners and sample some of their menu offerings. With live music, actual menu sample items, feature beer, wine and cocktails and plenty of people to mingle with, it was worth sacrificing a gorgeous midsummer afternoon to sit inside the bistro. The owners, Brent and Tammy were pleasant and very thorough in explaining the context and background behind the concept of their restaurant.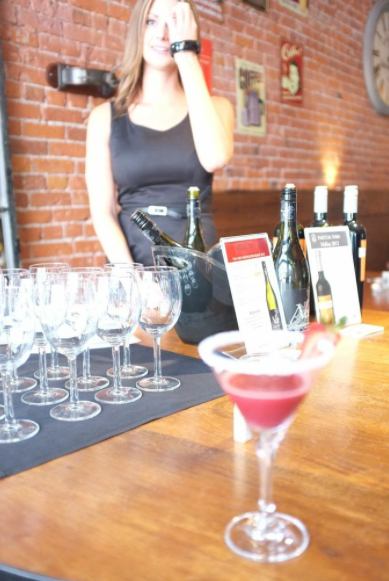 Catch 122 is named so after both the iconic novel (Brent believes it's one of the best American pieces of fiction ever written) and its location on 122 Hastings St. in Gastown. It pays homage to where it is and what its history has been like through its interior décor and paintings showing its vantage point from the restaurant almost 100 years ago. Of course, the bistro hasn't actually been around for 100 years – Brent previously operated a food establishment in Kitsilano, but found the environment and neighborhood at Gastown to better allow his venue to make a mark on the local community.
Highlights of the menu that we had sampled included almost anything made of duck. Obtained locally, the duck breast and duck confit were delicious, tender and paired with all the right ingredients. The poutine sampler was also an impressive and unique treat, featuring duck, pulled pork and other specialty meats.
Less stellar but still good included the scallops, which just missed the mark of some of the fresher and meatier offerings I've had before, and the shortcake which veered a bit too much towards the plain side. Overall, the prices are reasonable for what they offer and the location in Gastown makes Catch 122 a great brunch or lunch stop, and I will most likely visit again when I am in the area.