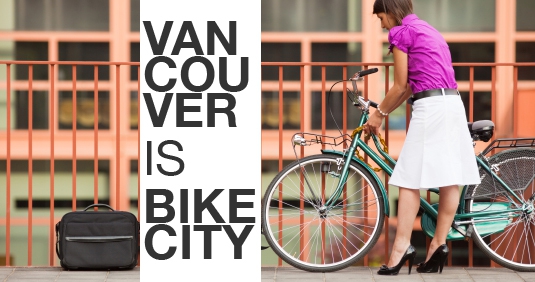 In the spirit of warmer weather in Vancouver I felt inspired by those who choose to sweat it out and bike to work each day. For a full two years, I watched from my car window as dedicated riders trudged up the Burrard Bridge. I knew my 10 min commute in the car was pathetic, and a waste of money.
Earlier this month, I ran out of excuses when and a co-worker was kind enough to lend me his daughters old bike. For a week (okay, 4 days…) I rode to work and loved it. It took me 15 minutes instead of 10, I didn't have to worry about traffic, and I saved $11.35 every day by not parking.
Turns out, the hardest part was getting started. The first ride was nerve-wrecking and all I could think about was a car ramming into me or my tires tripping over a rock. But nothing happened, and slowly as each day passed I started to build my confidence. Once I stopped worrying about getting hit by a car every two seconds I found the ride incredibly rewarding, enjoyable and best of all, I felt free. Every time you find yourself weaving in between cars stuck in traffic, or passing a line of stalled vehicles it feels like a little win that always makes me smile.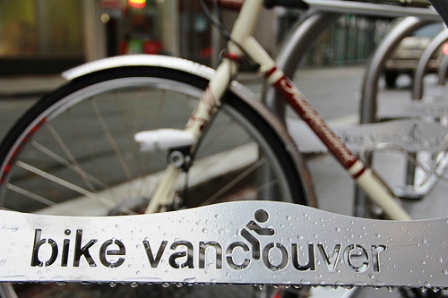 Although I still haven't gathered enough bravery to ride in the rain (I'm blaming it on lack of right gear) I can already see this mode of transportation becoming a regular, part of my life. I now look forward to ride home after a long day at work. In particular, breezing downhill on Burrard Bridge knowing I had spent the morning riding up it, painfully slowly, but surely.
If you're thinking about buying a bike, here are some things to consider – from a novice biker, who has recently discovered that two wheels can be just as good as four:
Considered previously owned – I ended up buying a Norco Srambler off my coworker whose daughter had outgrown the bike. It's a great 24-speed, entry level bike. I knew I needed gears to get up hills, which are unavoidable in Vancouver. Almost all bike rental shops in Vancouver sell their used bikes, which are a great alternative to buying new. Spokes (1798 West Georgia Street) in Vancouvers' WestEnd switches out their rental bikes every two years so you know you can get a bike that is fairly new, starting at $200.00.
Wear a helmet – It's really not a fashionable statement rather than a commitment to saying you care about your brain. I considered getting a cute hipster pink helmet but ended up with a more breathable, light option.  Helmets are good to replace every year or so, and always after impact. Expect to spend anywhere from $30-$100+ for fancier options.
Have a wardrobe plan – Unless you are immune to sweating your likely going to require a change of clothes. You'll also want to think about where this changing of clothes will happen. I am lucky enough to have access to change rooms at the gym in our building (and a shower, which definitely helps!).
Get a bike lock – You'll want to carry a bike lock with you at all times. This means finding a way to strap it to your bike, or putting it in a knapsack or carrier of sorts. I am currently using a knapsack but finding it not to be the most comfortable option. I'll be looking into a pannier rack ($30) and bag but I also like the front basket option.
At the end of the day, biking is an extremely realistic way to save money, contribute to the environment, and do something healthy for yourself. Vancouver is also a great city to commute with a bike. With a ton of resources available, bike to work week, and dedicated lanes, it's easy to get started. To get started, find out more from the City of Vancouver here.