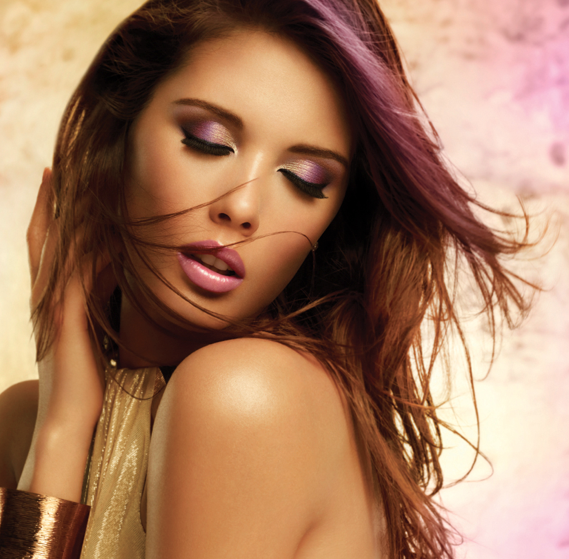 Introducing the "India Gold" collection by Canadian beauty icon, Lise Watier: "A captivating collection of bold colours and ornamental accents that whisks us to the heart of India. Golden brilliance and oriental exoticism transport uson a warm and luxurious voyage."  If you love warm, bronze hues accented by rich purples and magenta, you'll love the "India Gold" collection.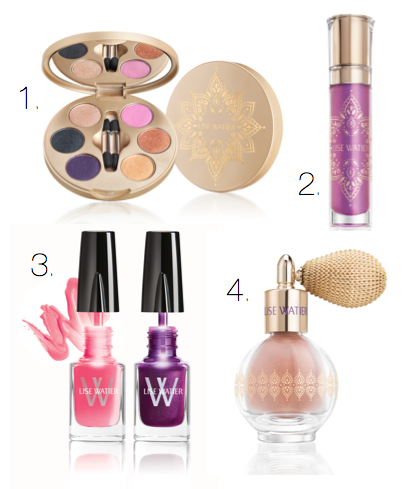 Here are some highlights from the limited edition collection:
Palette India Eyeshadows ($42) – six mini eyeshadow shades, from neutral to vibrant, in an ornate, gold compact case with mirror. The charcoal colour can be blended like an eyeliner, while the vibrant shades can add a pop of colour to your lids.  I'm not a fan of the bubble gum pink shade, but love the gold, bronze and champagne shades.  Great size for travel and would be a pretty addition to your make up kit.
Gloss Bollywood ($22) – looks purple in the tube, but goes on transparent with a high-gloss finish.  Can be applied on its own or over lipstick.
Nail Lacquer ($13) – Love how the lid of these nail lacquers have a built in "cap light" so you can see your nails better when you are painting them.  "Gulabi" is a magenta pink shade, while "sundara" is a rich plum.  Given the theme and colours of the "India Gold" collection, I'm a little bit surprised that there isn't a gold or bronze sparkle shade in this season's nail lacquer.
Taj Mahal Powder ($29) – this is a glitter spray but quite elegant as the shimmer goes on as a very fine powder.  The unique spray bottle looks very ornate and reminds me of a vintage perfume bottle.
The India Gold collection from Lise Watier will be available in-stores at London Drugs and Shoppers Drug Mart until the end of July 2013.