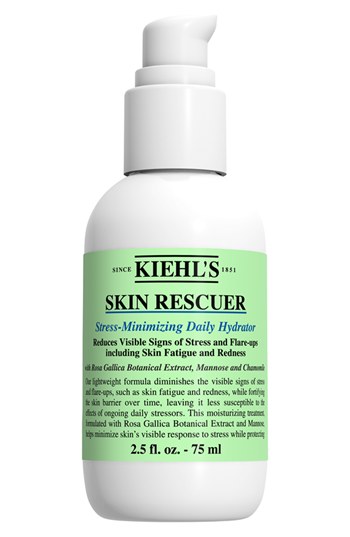 Kiehl's has been providing its customers with skincare solutions for over 160 years. Even with its apothecary roots from its early days, the company has been innovating with new products to address skincare concerns, many of which have been formulated as a result of research and customer feedback.
One of Kiehl's latest findings through research shows that stress is one of the top skincare enemies. For some people who think they have sensitive skin, the symptoms experienced – dry skin, blotchiness, redness and irritation, may actually be triggered by stress. Kiehl's newest product targets these types of visible reactions to stress on the skin and is appropriately named the Skin Rescuer Stress-Minimizing Daily Hydrator.
Launched only a few short weeks ago in May, the Skin Rescuer is a new category of moisturizer and contains a combination of ingredients known to sooth skin and prevent inflammation. Some notable ingredients in the Skin Rescuer includes "Rosa Gallica Botanical Extract" which helps block the signals that trigger inflammation of the skin, "Mannose" which helps minimize the skin's visible response to stress while protecting and strengthening the skin barrier, and "Chamomile", like the tea, which provides instant soothing comfort to the skin.
Kiehl's Skin Rescuer is suitable for all skin types. If you typically have dry skin, the Skin Rescuer can be used like a serum base and layered with another moisturizer. If you have normal or combination/oily skin, you can use the Skin Rescuer on its own.
Skin Rescuer is paraben, coulorant and fragrance free and retails for $42 for 75ml.
This post was originally published on the Metropolis at Metrotown blog.