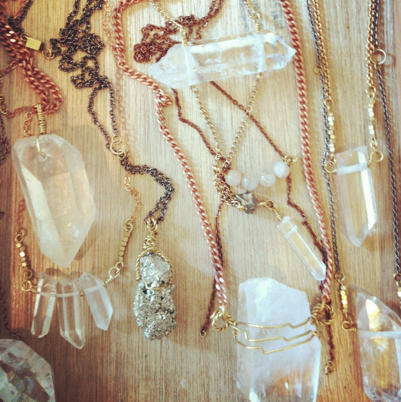 Mellinda-Mae Harlingten is the designer behind Bones & Stones, a unique line of jewellery she describes as a mix of of nature and rock 'n' roll, with a gypsy heart. With an education in fashion design but influenced by a hippy mindset, many of the pieces in the Bones & Stones collection is inspired by her exotic travels. Mellinda traveled through India and South East Asia for 10 months.  During her travels, she met many other travellers who sold their art and hand made jewelry on which ever beach they were on.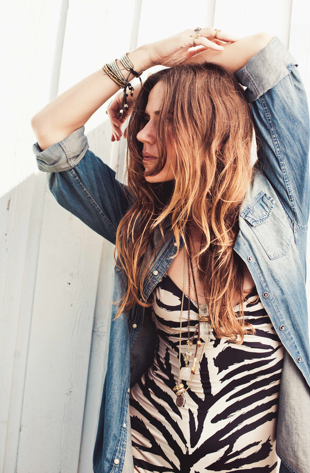 "This artistic free way of living inspired me to start making my own jewelry. I actually kept running into one couple in particular from South America that did the same thing and they ended up giving me some quick lessons on how to make things as well as tips on where to go to buy all the stones, wire and hardwear while in India."
At the end of her travels, Mellinda started collecting all the materials needed to start creating her own pieces.
The pieces in the Bones & Stones collection are primarily made up of different types of raw quartz, especially crystal quartz which is a clear crystal.  These pieces are then accented with camel beads brought back from India as well as bits of metal like brass, silver, copper and a little gold.
Mellinda is a big fan of mixing different tones of metal in her pieces.  "The days of just being able to wear silver with silver, or gold with gold are over. Mix and match!" she says.
The Bones & Stones collection can be worn with several style looks.  Mellinda says her pieces would pair well with a hipster, rocker, hippy or bohemian-style outfit.  Mellinda supports the idea of "wearing something feminine like a long maxi summer dress with a semi fitted leather biker style jacket and layering a few Bones & Stones necklaces and bangleing it up on the wrists."
The pieces in the Bones & Stones collection can be dressed up or dressed down.  "It doesn't really matter," Mellinda says, "it really comes down to owning your look and feeling comfortable".

To check out Bones & Stones, you can find select pieces at The Cross Decor + Design (1198 Homer Street) in Yaletown, and Lofty Living (610 Columbia Street) in New Westminster.  If you want to meet Mellinda in person, she'll be at the jewelry trunk show at The Cross in Yaletown on June 14th from 3-6pm. She will also be attending the Car Free Day on Main Street this June 16th at the main stage with the Beaumont Studios.
To stay in touch online, "like" the Bones & Stones Facebook Page or shop online at lovebonesandstones.com.