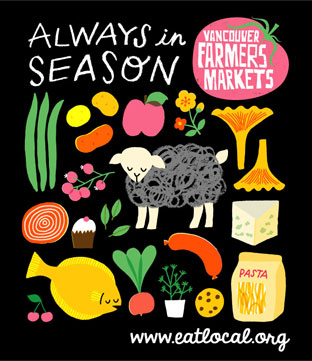 The Vancouver Farmers Markets are back for summer 2013!   With five different locations around the lower mainland and various days and times, each farmers market is unique to reflect the character of the diverse neighbourhoods that host them.  Expect to see farm vendors with fruits and veggies, prepared food vendors with baked goods and various jams and sauces, as well as craft vendors.  Eating local is "always in season" :).  Locations and market dates are listed below:
Trout Lake (North Parking Lot of John Hendry Park) Saturdays 9am to 2pm
Kitsilano (Kits Community Centre) Sundays 10am to 2pm (starts June 15)
Main Street Station (Main & Terminal at Thornton Park) Wednesdays 3pm to 7pm
West End (1100 Block of Comox Street) Saturdays 9am to 2pm
Kerrisdale Village (East Boulevard between W 37th and 41st Ave.) Saturdays 10am to 2pm
For more information, including bike routes to each location, visit eatlocal.org.