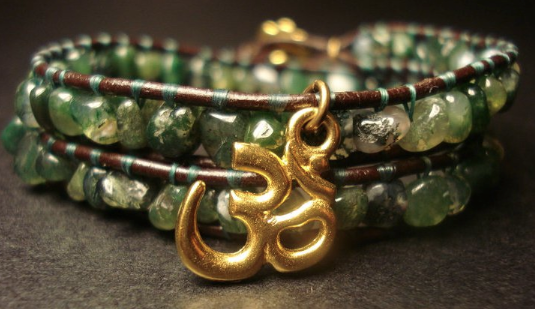 Karen Fung is the designer behind the Vancouver-based jewellery line Meiku Designs, which offers "modern jewellery for the urban bohemian".  Strongly inspired by a combination of westcoast natural beauty, as well as the Japanese philosophy of "Wabi Sabi" which is the acceptance of imperfection and seeing the beauty created by it, Karen uses stones with natural imperfections (and therefore uniqueness) to design her line.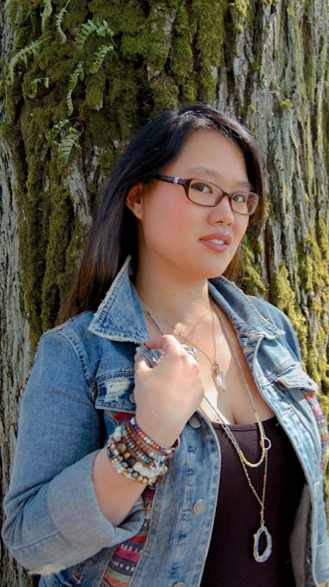 Having always wanted to combine creativity with entrepreneurship, Karen tried several creative avenues like freelance design and illustration. But when she took a silversmith making class for fun, Karen fell in love with the art and soon after, started Meiku Designs.
The current Meiku Designs collection is "Karma".  As yoga and meditation plays an important part in Karen's life, she wanted to create a collection that would reflect how she felt about her practise, but still reflect her sense of style and aesthetic.  In fact, some of her pieces are available for sale at various locations of YYoga in Vancouver!  Meiku Design's Karma collection was designed to not be too rustic or "hippy dippy", but not ultra flashy either.  In other words, Karen describes her collection as "modern jewellery for the urban bohemian".
As we mentioned earlier, Karen uses stones with natural imperfections to give her pieces a unique, one of a kind and natural look:
"I handpick the Agate Geodes and Druzies that are so prominent in my collection. The same criteria goes for the semi precious stones  and I also consider their healing properties. My personal favorite is Moss Agate which has swirls of various shades of green that remind me of moss or trees and its a stone that gives you strength and helps keep you grounded to the earth."
As for the charms, chains and findings in her pieces, Karen uses durable quality materials like sterling silver, 14kt gold-fill, vermeil, brass and pewter whenever possible:
"The charms used in my collection have symbolic meaning…like the OM charm written in Sanskrit.  Natural materials are also an important part of my collection, it tempers the shininess of the metals and stones, so you will often see leather, wood and waxed linen mixed in."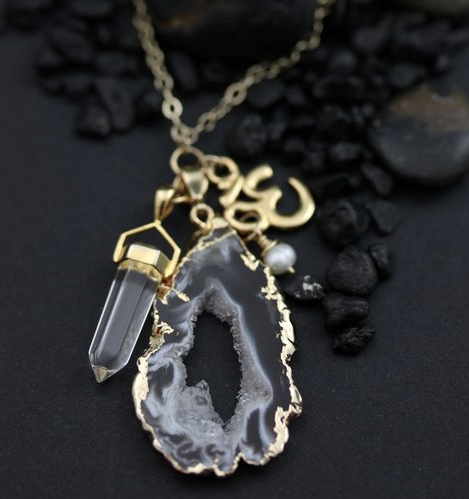 Karen now runs Meiku Designs full time.  She knows that if she doesn't put all her heart into her business venture, it would not take off.  According to Karen, "you can't put 110% into two jobs and expect them both to fully succeed".  Currently, Karen is looking to expand her working space from home to a studio so she can include metal work into her designs.  She is also working on a line for men, new photos and website with an online store.
To meet Karen in person and check out Meiku Designs, head to the upcoming Portobello West Fashion + Art Market at Olympic Village on May 25 & 26.  Karen will be showcasing some of her newest pieces made with waxed linen crocheted onto chain and other materials.