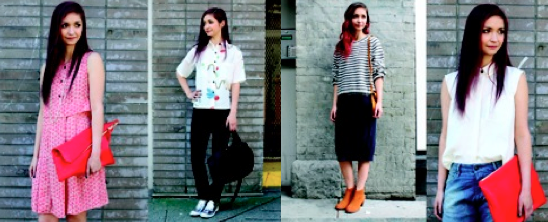 Last week, Modern Mix Vancouver was invited to attend a collaboration between One of a Few in Gastown and Skoah in support of The Hopeful Hands Charity. The night was filled with two of our favorite things including the latest from the spring collection at One of a Few and the heavenly scents of Vancouver-based Skoah products.
From One a Few we saw some great pieces modeled by a team of stunning women including Olympic gold medalist Ashleigh McIvor. One of our favorite brands, Claire Vivier was a feature part of the spring collection mixed in with colorful prints, flowing tops and sophisticated leather skirts.
This event was particularly special because of the connection to The Hopeful Hand. All proceeds from the ticket sales + a percentage of purchases that night went directly to The Hopeful Hand Charity. Initially created back in 2005, Skoah started by offering parents with ill or terminally ill children in the hospital a facial treatment, once a month. The goal was to provide a service that would help them relax, if just for a moment during an extremely difficult time. Over the past seven years, Skoah has been dedicated to forming relationships with the BC Children's Hospital and BC Partners in Care.
Earlier this year, for Valentines Day Skoah created the limited-edition Hopeful Hand Lotion ($12). This lotion was created specifically to support the charity with a portion of proceeds going directly to The Hopeful Hand.  Infused with vanilla and cinnamon scent it feels velvet smooth and oil free. To compliment the launch of this product, Andrea, owner and founder of Skoah shared her personal story about The Hopeful Hand, how it got started and where it is headed. To read her genuinely written and touching blog post online click here.