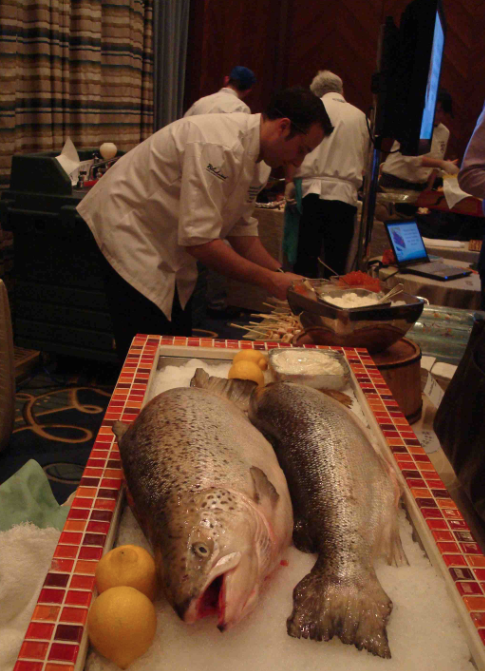 May 3rd saw the celebration of National Sustainable Seafood Day in Vancouver. This celebration of sustainable seafood was a day declaring the commitment to choosing ocean-friendly products throughout the year. Presented by Vancouver Aquarium's Ocean Wise program, SeaChoice, Blueyou Consulting, the event was held at the Four Seasons Hotel Vancouver. Special guests included Dr. David Suzuki, Executive Chef of Four Seasons Hotel Vancouver and ocean ambassador, Ned Bell, and cookbook writer and National Geographic Fellow Chef Barton Seaver, who flew in from Boston to attend the event.
Throughout the evening, over a dozen ocean-friendly seafood tastings were prepared by some of Vancouver's most notable chefs including Chef Robert Clark, Frank Pabst (Blue Water Cafe), Quang Dang (West Restaurant), Lee Humphries (C Restaurant) and Chris Whittaker (Forage). Local suppliers were also on site to show their support and provide education about sustainable seafood and solutions for the oceans.
The evening started off with an introduction by Parliament member, Fin Donnelly, a strong supporter of sustainable seafood and currently petitioning to have March 18 designated as National Sustainable Seafood Day in Canada. He spoke about the need to ban the importation of shark fin and to protect the fish habitat in Canada. He also encouraged the audience to choose eco-certified seafood products to support the growing sustainable seafood industry in Canada and promote sustainable fishing practices.
Executive Chef, Ned Bell, also a strong supporter and champion for sustainable seafood choices spoke to the audience about his passion for the cause and his farm-to-table and ocean-to-table cooking philosophies. His dedication to using ocean-wise methods in his everyday choices is exemplified in his culinary creations as Executive Chef at Four Seasons Hotel Vancouver and YEW restaurant + bar. Throughout the night, he prepared a unique dish featuring Selva shrimp and yellowfin tuna.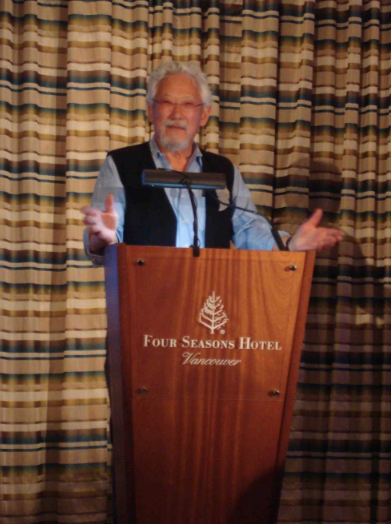 The keynote speaker for the night was Dr. David Suzuki, co-founder of the David Suzuki Foundation and an award-winning scientist, environmentalist and well-known Canadian icon. He delivered an inspirational message, challenging the audience to be proactive about changing their attitudes and behaviours toward sustainability. Dr. Suzuki spoke to the need to raise awareness about the importance of sustainable seafood to ensure social, economic and environmental viability for future generations. He encouraged the audience to choose sustainable seafood to help promote healthy oceans and humans, whether dining out, eating in, or simply making informed purchases at the grocery store.
For more information on sustainable seafood, visit seachoice.org