Chloé Eau de Parfume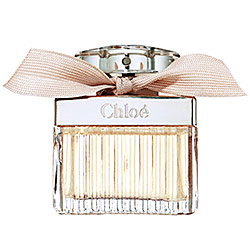 Fans of Chloé will be familiar with the fashion line well know for their feminie cuts, use of soft flowing fabrics with a Bohemian feel. We've long been in love with this brand for the classic and coveted look that is part of an effortless French inspired style.
Chloé Eau de Parfume is a tribute to all the things we love most about the brand, with illuminating tones of rose, lychee, pink peonies and freesia. This beautiful perfume has been a part of my go-to collection since I first started looking for a signature scent in back in 2008. It's subtle, yet sweet leaving you feeling nothing short of refreshed and radiant. The subtle tones instantly add a luxurious scent that isn't too overpowering.
For anyone looking for an easy, feminine every day perfume Chloé Eau de Parfume is the perfect go-to. Packaged in a beautiful bottle with a silver top (and pink bow, because who doesn't love that) it also makes for a pretty addition to your beauty bag.
Coty Prestige will be a featured sponsor at the Modern Mix Vancouver 5 Year Anniversary Party on May 9th where 100 lucky readers will get to take home a "My Little Chloés" bottle to keep. We hope you enjoy and can't wait to talk to you more about this wonderful fragrance!