Whistler Naturals – Eco-Friendly Beauty Products & MMV Gift Set Giveaway
"We don't believe in stripping your skin's natural protective barrier; Whistler Naturals is all about giving back to your skin. Your skin works hard everyday filtering toxins from your body and protecting it from the environment." – Lisa McGregor, Founding Partner of Whistler Naturals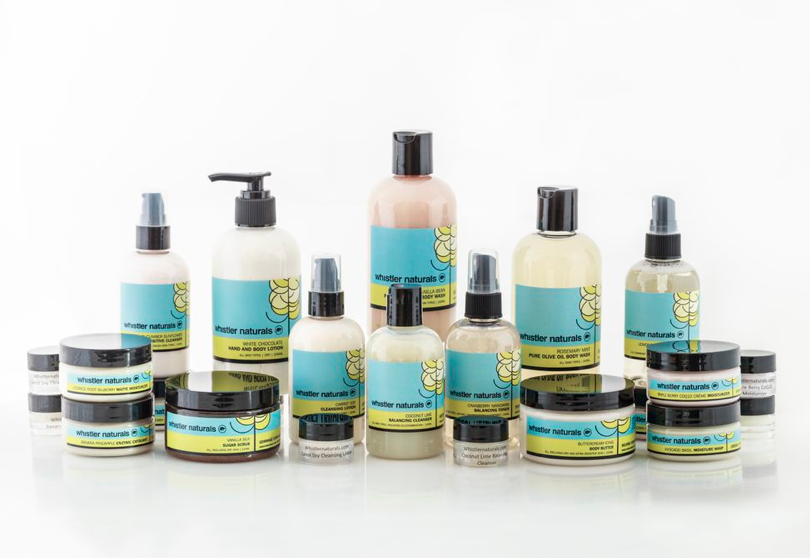 By using probiotic technology as a preservative for their products, Whistler Naturals is healthy, eco-friendly and made in Canada. All of Whistler Naturals' products are natural, organic, vegan, and gluten and nut free and entirely free from harsh preservatives, parabens, synthetic colours or fragrances, and GMOs.
Some of the ingredients you can expect to find in Whistler Naturals products include peppermint, rosemary, avocado and basil oils, shea, cocoa and soy butter. What stood out to me the most in the Whistler Naturals collection are the interesting ingredients and unique scent combinations in their products.
Rosemary Mint Pure Olive Oil Body Wash – this body wash actually feels like you are putting olive oil on your skin (because you are!). Unsurprisingly, it doesn't lather up much because the base is oil.  However, it leaves your skin feeling very soft and smooth after your shower. The mint gives it a refreshing scent and would be a great body wash to use in the summer as the weather heats up.
Coconut Lime Balancing Cleanser  – this cleanser lathers up the right amount – not too sudsy but enough foam to know you are washing your face properly in the shower.  I couldn't really smell the coconut but there is a distinct lime scent.  Maybe I was taking extra care to cleanse my face while testing a new product, but my face felt really smooth after using this cleanser.
Banana Pineapple Enzyme Exfoliant – this product actually works like a mask where you leave it on for 10 minutes after cleansing your skin. There's very few exfoliating grains in the mix, so it's extremely gentle on your skin.  This would be the exfoliant to use, if you haven't been using exfoliant because you find it too harsh on your skin.  Doesn't smell at all like banana or pineapple to me.
Buttercream Icing Body Butter – this moisturizer literally smells like creamy cupcake icing, but not at all greasy – this is probably the fastest absorbing body butter I have ever used.  The body butter looks quite dense in the jar, but one you scoop it out with your fingers it has a surprisingly light texture.
Want to try out a couple of products from Whistler Naturals?  Enter our giveaway below on Modern Mix Vancouver.
MMV Giveaway: Modern Mix Vancouver is giving away a Whistler Naturals "Pure Indulgence" Bath and Body Set.  To enter, please "LIKE" the MMV Facebook Page by clicking here and ALSO leave a comment below about your favourite scent or ingredient used in any Whistler Naturals product. A random winner will be chosen from the comments below. Giveaway ends Sunday May 5th (11:59pm PST). Open to anyone in Canada.
For an additional entry: Follow @ModernMixVan on Twitter and tweet "Win from @ModernMixVan a @WhistlerNatural Pure Indulgence Bath & Body Set! Click here: http://bit.ly/13RDM7R | RT to enter!"