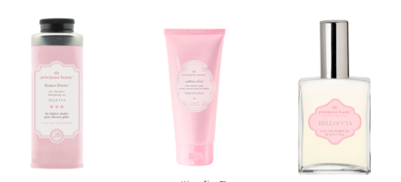 Over the past 10 years, Vancouver-based Principessa has been covered by all top lifestyle magazines including Elle, Cosmopolitan and People…and now Modern Mix Vancouver!  With no sign of slowing down, Principessa continues to satisfy women who have a lust for the luxurious. Combining perfume, packaging and performance into beautifully feminine products, the brand offers a line of products that are sure to add a little (or a lot!) of glamour to your daily routine.
Passionately dedicated to the creation of high end, unashamedly feminine products, this brand is inspired by all things Italian: the language, natural aromas, and decadent fragrances. With a growing range of beauty products, the current collection includes signature fragrances, hair care, lip treats, bath and body products. From the award winning products to the lesser-known few, here are some of our favorites:
Bianco Breeze – By far, our favorite dry shampoo yet. Made of super fine powder, it soaks up excess oils while creating volume and body. Scented with isolina this magic potion can also double as a body powder. If you're worried about blending, look for Notte Breeze, which is created for darker color hair.
Cattiva Diva – Don't let the size of this tube fool you. Deliciously scented with a mix of sweet almond oil, aloe vera and vitamin E this product moisturizes without leaving a greasy feel. The perfect size to keep in your everyday purse, a little goes a long way.
Belloccia Eau de Parfum – The direct translation of Bellocia in Italian is "irresistible" and it's been described the color pink, in scent form. Infused with hints of peach and vanilla flow, jasmine and sandalwood this perfume is a coveted award winning product.
To add to the beauty benefits, you can also feel good knowing all products are free from chemicals like paraban, petroleum and sulfate. Principessa also has a strong commitment to the environment. The beautifully designed packages are mostly recyclable/reusable and all products are 100% biodegradable.
In May, Principessa will be featured as a supporting sponsor at the Modern Mix Vancouver 5 Year Anniversary & Reader Appreciation Party.  The Cattiva Diva will be in our gift bags so you can try this deliciously scented moisturizer for yourself.  To learn more about Principessa, visit them online or check out their product in-stores at Beauty Mark in Yaletown or Spa Boutique in Kitsilano.