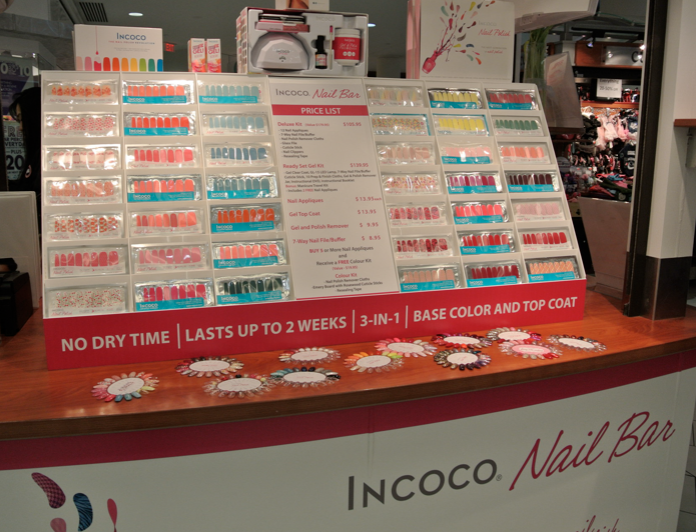 Introducing Incoco Nail Bar, an international beauty brand which offers a quick and hassle-free alternative to traditional nailpolish application and a first of its kind in Vancouver.  Incoco is best known for its 100% real nailpolish appliqués, which has a base, colour and top coat all in one. All you have to do is peel off the strip, apply pressure on the nail and pinch the excess off.  There's no more drying time, smudges or streaks.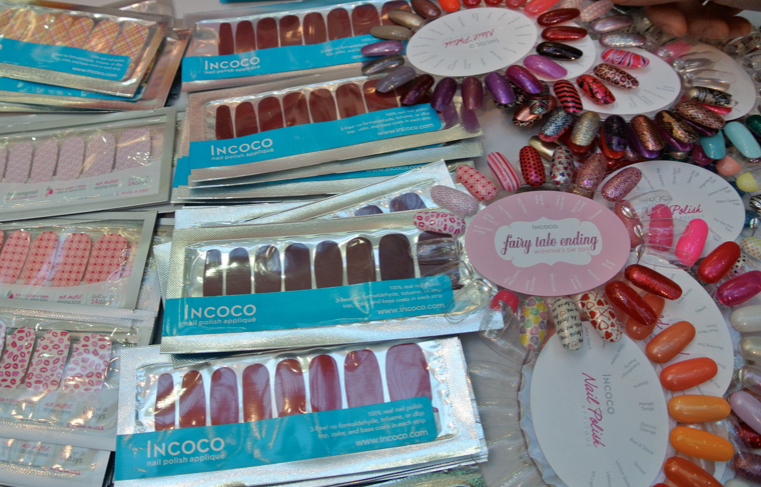 For girls on the go, we are constantly looking for beauty shortcuts to save time – which is exactly how Danielle, the managing director of the Incoco kiosk at Metropolis at Metrotown, discovered the brand.  On her way to a nail salon in Las Vegas, an Incoco rep pulled her aside and demonstrated the product on her. Danielle was "flabbergasted" (her word, not mine!) at the quick and hassle free application.  Soon after her discovery, Danielle returned to Vancouver and applied to open her own Incoco "Nail Bar" at Metropolis…and that's where she is now!
With 150 different shades and designs to choose from, you'll have more than enough options to choose from, no matter the occasion.  Styles include crème, shimmer, glitter, fresh, frost, sheer, neon, design, glitter design, and more!  I purchased the "A Floral Affair" design from Incoco's 2013 Spring Collection, which consists of a feminine orange floral and lace motif on a peach background.
Danielle was kind enough to help me apply the product to my nails and give me a mini manicure on the spot.  We had at least half a dozen people walk by and take a look at the demonstration on my nails and all seemed pleasantly surprised at how simple the product was to apply.
The Incoco Nail Polish Appliqués last for 7 to 14 days and can be taken off with regular nailpolish remover.  I'm currently on Day 3 of my manicure and no chipping at all yet – so for sure these appliqués are tougher than regular nailpolish.  Incoco Nail Polish Appliqués retail for $13.95 a set and in BC, are only available at Metropolis at Metrotown.  Incoco Nail Bar is located on the Upper Floor near the Customer Service Centre.
To stay up to date on this location of Incoco, check out their Facebook Page here.