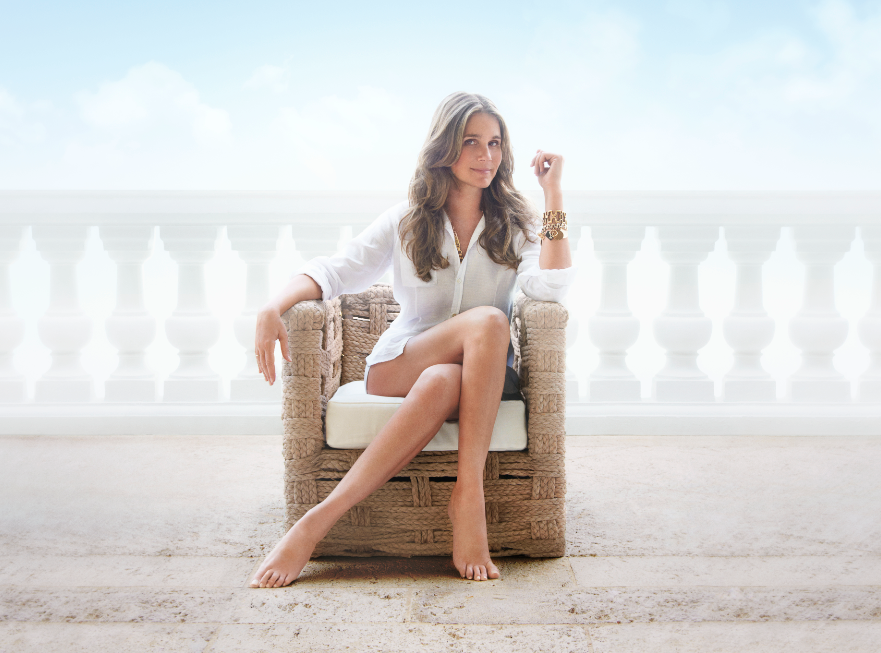 "For me, summer has always been about the beach; it's where I'm the happiest.  Whether taking a morning walk or an afternoon swim, I am endlessly inspired by the sea and the shells along the shore.  This collection, with its natural colours and a multi-purpose cream, give a day at the beach an effortless touch of subtle luxury" – Aerin Lauder
The stylish and feminine Aerin Lauder (granddaughter of skincare icon, Estee Lauder), is launching her spring/summer 2013 beauty collection which is "inspired by the natural ease of a vacation spent at the beach".
I am a huge fan of AERIN and I love how she describes her collection as subtle luxury.  From the gold packaging, there's a pretty, feminine yet luxurious look to all her products.  Whereas Estee Lauder has traditionally been viewed for a slightly older demographic, due to its long-standing history and reputation in the skincare and cosmetics market (ie. my mom is very familiar with Estee Lauder products), Aerin gives a young, fresh, modern, Pinterest-worthy twist to all her products.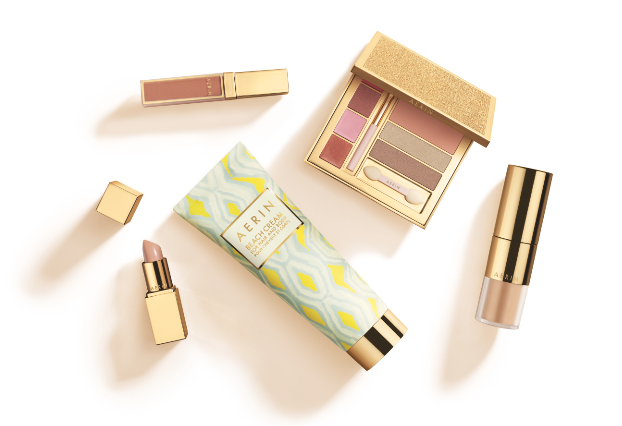 When Modern Mix Vancouver took a first look at Aerin Lauder's newest "Shell Color Collection", we loved the pretty neutral shades and stylish gold packaging. The AERIN Summer Style Palette ($78) consists of two eyeshadows, blush, two lipsticks and two glosses.  The eyeshadows help softly define the eyes, while the blush gives your complexion a healthy rosy colour.  The entire set is packaged in a durable yet feminine square gold case.
The AERIN Lip Gloss ($34) is available in two shades and have names inspired by the beach.  Shell and Sunset are natural, high gloss shades and an "easy finishing touch to every summer pout".  Meanwhile, the AERIN Lip Stick in Beach Beige ($34) "adds relaxed, casual glamour and a kiss of colour to any look". Both lip products includes the "AERIN floral infusion" which helps condition lips.
The most innovative product in this collection is the AERIN Beach Cream ($50) which is a multi-purpose product for both skin and hair.  Beach Cream consists of a richly conditioning and subtly shimmering formula which is perfect for skin and hair which has been dried from the sun, wind and ocean.  Upon application, the skin looks sun-kissed with a bronze glow, while in the hair, the sun's warming rays activate a conditioning treatment.
Get ready for beach weather, (hopefully) coming soon to Vancouver.  The AERIN summer collection is available for a limited time beginning April 2013 at Holt Renfrew and ranges from $34 to $78.