Loft 82 Re-Opens After Renovations (March 28, 2013)
Earlier this year we stumbled across Loft 82 on Granville, sister store to beloved Oak + Fort in Gastown. We quickly fell in love with everything this Canadian brand had to offer, from simple basics, to chunky, patterned scarves and a collection of jewelry featuring simply studded shapes and designs. Conveniently located in the heart of downtown on 840 Granville Street, Loft 82 will be launching their newly renovated location on March 28 and we cannot wait to see what they have in store for spring.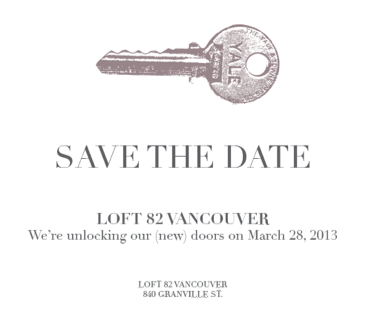 At an incredibly affordable price point, the store echoes the lifestyle of a true Vancouver fashionista offering simple, clean cuts in classic and trendy colors. Peppered throughout the store you'll also find unconventional pieces including pieces like a fitted riding vest or from earlier this season, the native inspired-printed Dakota poncho.
For the most up to date information onLoft82, follow the store on Twitter , or check out their frequently updated Facebook page. The Loft 82 blog is also a great one to follow for the latest in feminine design, travel, and inspirational quotes.