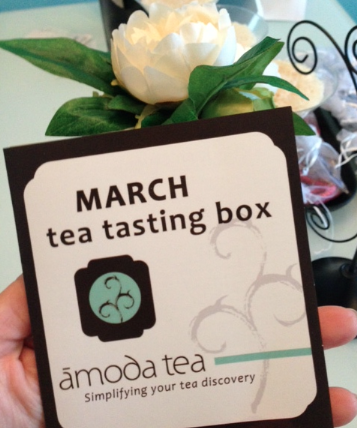 Amoda is the Sanskit word for joy, peace, serenity and aroma which is the perfect name for a new tea sampling company based out of Vancouver. Amoda Teas is a subscription service which connects you to the world of tea by mailing you three taster pouches of loose leaf tea each month.  Modern Mix was sent Amoda Tea's March subscription box. These were the tea blends we were surprised with last week:
Irish Cream (Ottawa) – This is a black tea which very much reminds me of a "cream of earl grey" tea blend. Great to drink as a breakfast tea for a slight caffeine kick in the mornings.  One of our Twitter followers had mentioned she may have put too many tea leaves in her pot because her tea turned "totally black and cloudy".  If that ever happens to you, add in some milk – as with most black teas, the Irish Cream tastes great with milk and sugar.
Mint Grass (New York City) – This herbal blend is composed of mint, lemongrass and chamomile.  When I steeped this tea, I accidentally left it in the tea pot and cooled it to room temperature.  Strangely enough, I prefer drinking this minty tea when it's not so hot.  As the weather gets warmer, this will definitely be a tea you can drink with ice.
Kiwi Cherry Bonanza (Chicago) – A fruity tea which is mainly comprised of fruity bits rather than traditional tea leaves.  It's got a hint of spice from the ginger in the blend, and ends with a slightly tart finish.
As you can see from Amoda Tea's March Tasting box, we experienced three blends of tea from Eastern North America.  In other months, you can expect to receive tea samples from around the world.  When you find a tea you love, you can visit Amoda Tea's online store and purchase a full-sized 50 gram pouch (limited quantities available).  A subscription to Amoda Tea begins at $15 per box on a monthly basis, and the price drops with a longer subscription time.
We hope you enjoyed your March tea box as much as we did!  If you aren't already subscribed to Amoda Tea, check them out at AmodaTea.com.