Through the VanEats.ca dining pass, Modern Mix Vancouver was given the opportunity to experience the "Art of Taste" package at Mosaic Bar and Grill at the Hyatt Hotel in downtown Vancouver.  For $22, the dining options are as follows:
Your choice of appie:
Local Seasonal Spring Salad – fava beans, house made sheeps milk ricotto, citrus and mustard dressing
Warm a la Minute Smoked Skuna Bay Salmon – avocado terrine, maple matured sherry bourbon oak vinegar
The seasonal spring salad has definitely got a modern-art touch to it.  Flat, wide shaved vegetables including cucumbers and carrots are clustered together like a garden. The cheese was bland, but not in a bad way – the dish needed a neutral ingredient to balance out the more prominent citrus and mustard dressing.  The soft cheese texture was a nice balance to the crisp vegetables.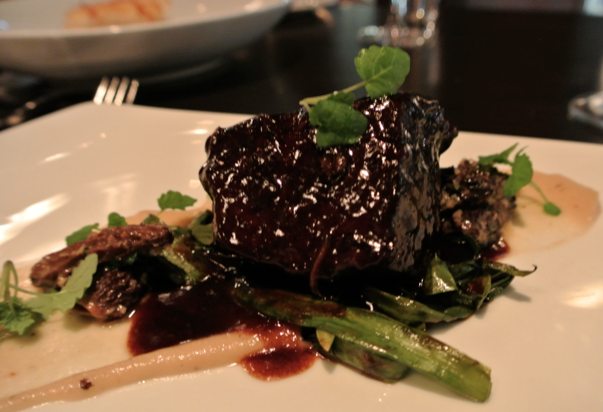 Your choice of entree:
24 Hour Braised Spring Creek Short Ribs – roasted root vegetables, garlic, tarragon jus
Grilled Long Line Caught BC Ling Cod – baby bok choy, shiitake mushroom, dashi broth
I thought the short ribs was way too flavourful. You can even see in the photo that the entire hunk of meat is drenched in sauce.  Could not taste the sweet onion at all, all the other sides tasted bland compared to the short ribs.
Meanwhile, the Ling Cod was light and oriental inspired with bok choi and shitake mushrooms. A light dashi broth was poured at the table, like a gravy, to give the dish additional flavour.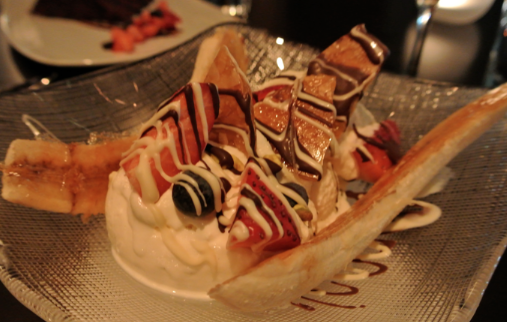 Your choice of dessert:
Banana Split – caramelized banana, vanilla ice cream, almond brittle, chocolate sauce
Mosaic Chocolate Cake – signature triple layer chake
Both desserts were massive and I was surprised they would serve such generous portions as the final course of a three-course meal.  The Banana Split was well presented, yummy but overly sweet.  The chocolate cake was MASSIVE.  I don't think either dessert choice really fit with the other more exotic dishes which were served – I was expecting a more daintily crafted dessert, but both choices were still good for those with a sweet tooth.  If you know you aren't going to be able to finish your dessert in one sitting, I'd recommend the chocolate cake, so you can pack it home afterwards and nibble on it for a week (which is exactly what I did).
Overall, this VanEats.ca dining pass was extremely good value for $22, especially if you have an appreciation for seafood.  The Art of Taste package is available at VANEATS.ca between March 13 and July 13 and would be great for a date night.