Zara – Online Launch in Canada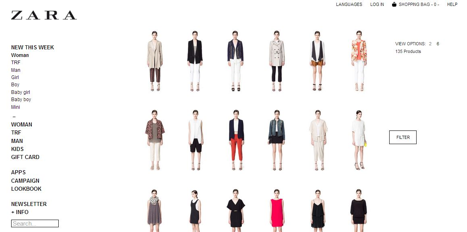 Earlier this month, Zara launched their online store for Canada. As a fashion blogger and dedicated online shopper, not only did I count down to March 5 but I have been on the site almost every day since toying with the idea of what to buy. The site covers everything you would find at a bricks and mortar location including women, men, kids and the TRF line.
Spring is in full gear with native patterns, details and colors not to mention their full line of accessories, handbags and shoes. Oh, the shoes. Flats, heels, boots and sandals the online store is like a treasure box full of amazing finds. As always, prices are reasonable and it seems only a matter of time until you'll find your cart somehow full of must haves.
The best part? You have an option to ship your items to the closest Zara store location to you free of charge or, to wait 3-4 days for shipping to a location of your choice. For orders over $50.00, shipping is free. The standard return policy (amazing) applies to most items giving you up to 30 days from to either return your items in store or send back via mail.
As we start to see more retailers get into the online game, it will be interesting to watch them evolve. For the time being, what Zara Canada online is missing is a "wishlist" option so that users can save item they are interested in purchasing later. Also, shipping to a store location does not seem to apply to the Zara location on Robson so heads up to those who choose that option.
Another great thing about living in Vancouver is that we have access to 3 physical locations and the stores are actually extremely up to date with the items online. Point is, if you're not ready to buy online you can always walk into store and spoil yourself a little on a few of your favorite things. With so many options available there is much to explore with one of our favorite brands, now online.