Aruhndara & Modern Mix Boutique – Spring Beauty Night in Yaletown (March 26, 2013)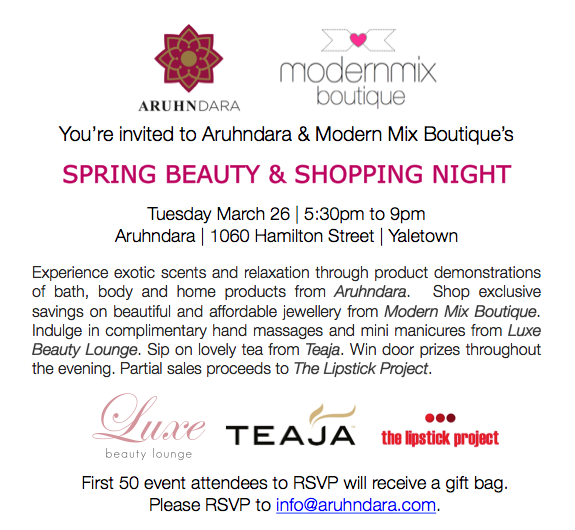 Aruhndara and Modern Mix Boutique would like to invite you to their spring beauty and shopping event on Tuesday March 26th.  Drop by Aruhndara at 1060 Hamilton Street in Yaletown anytime between 5:30pm to 9pm for an evening of pampering, prizes and exclusive discounts.
Experience exotic scents and relaxation through product demonstrations of bath, body and home products from Aruhndara.  Shop exclusive savings on beautiful and affordable jewellery from Modern Mix Boutique.  Indulge in hand massages and mini manicures from Luxe Beauty Lounge.  Sip on lovely tea from Teaja. Enter our raffle draw and win door prizes throughout the evening.
And, when you're finished being pampered, walk away with a gift bag containing product samples, discounts and other goodies so you can share the love.
At the event, 5% of sales at Aruhndara and $1 from every pair of earrings sold by Modern Mix Boutique will go towards The Lipstick Project, a Vancouver-based non-profit which brings the spa experience to hospital patients. 
First 50 RSVP to info@aruhndara.com will receive a complimentary gift bag.
See photos below to see a preview of pieces that Modern Mix Boutique will be bringing to the event! If you can't wait, shop now at modernmixboutique.com!