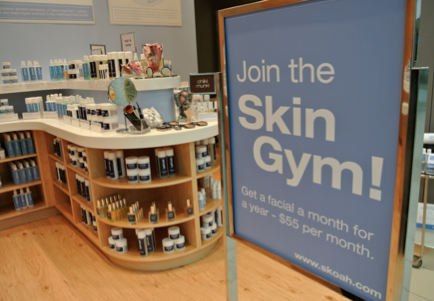 I recently met up with the regional manager of Western Canada at Skoah at the Metropolis at Metrotown location and learned more about the services and products that this personal skincare boutique offers. Typically when we think of facials, we have the perception that pampering and relaxation should only be saved for special occasions. However, Skoah's perspective is that a facial should be treated like a fitness regime – in order to keep your skin healthy, regular treatments are a necessity to maintain the overall health and rejuvenation of your skin.
From personal experience, whenever I leave Skoah after a facial, I come out fresh-faced and glowing – sometimes for days! Imagine if you increase the frequency of your visits to every four weeks – you'll be fresh-faced year-round.
Introducing Skoah's "Skin Gym" program.  You sign up for 12 months of facials for $55 per month (which can save you approximately $20 per facial compared to the cost of an individual treatment).  You'll work with a "skin trainer" who will come up with a personalized "skin care workout" schedule for you for the next 12 months.  Whatever your skincare concerns, you'll be committed to regular visits with your trainer to improve those concerns and look and feel great after each visit.  Furthermore, at the end of each session, you'll receive 10% off products at Skoah so you can continue your skin care regime at home in-between visits.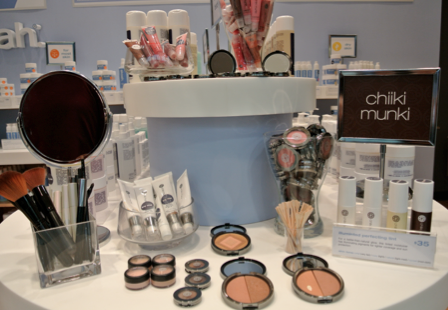 Lastly, right before you leave Skoah, you can also request a complimentary cosmetics application at the end of your facial treatment. Skoah's in-house brand Chiiki Munki currently focuses only on "touch up" make up – a bit of lip gloss to add shine to your lip, and a touch of blush to give you a healthy, rosy glow.
The Skoah at Metropolis only has two treatment rooms so it's recommended for you to book an appointment beforehand to ensure there is availability! Skoah is located on the Upper Level of Metropolis at Metrotown in the direction of Sears.
This article was originally posted on the Metropolis at Metrotown Blog.