Popchips – Guilt-free Snack Alternative Introduces New Ketchup Flavour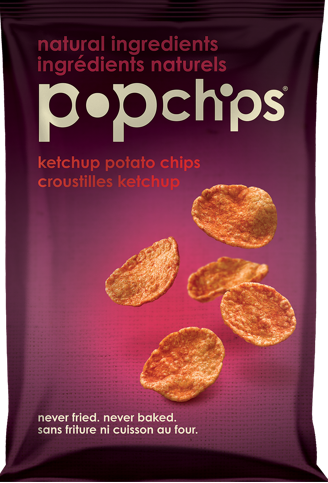 When you're living in a city as health conscious as Vancouver, sometimes there's a stigma around carrying a bag of chips and greasing your fingers on them in public.  However, Popchips has come up with a guilt-free alternative which utilizes the magic of "popping" – a combination of heat pressure, rather than baking or frying. Popchips, like their new ketchip flavour, have all the flavour and less than half the fat of fried potato chips. What's left out are a lot of calories and all the fake colours and flavours (and greasy fingers) that give snacking a bad name.
You may have seen Popchips at various events around Vancouver, or even in grocery stores like Urban Fare, Nesters or IGA. Since launching in 2007, popchips has been winning awards and has developed quite a passionate following among trendsetters and celebrities alike. Fans include Katy Perry, who is not only the newest face of the brand but also an investor, popchips' president of pop culture, Ashton Kutcher, Heidi Klum, Jillian Michaels and Sean (Diddy) Combs.
For more information on this tasty snack, visit popchips.com.