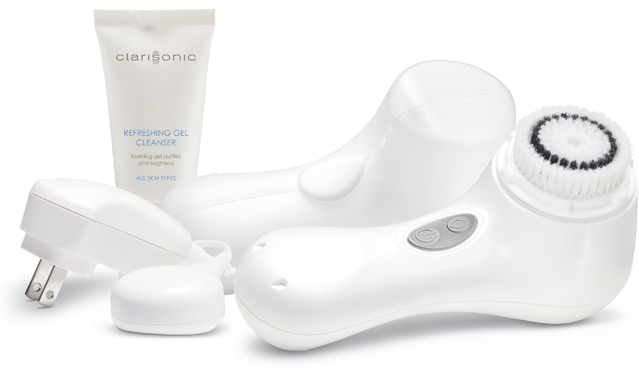 Traditional methods of cleansing don't get your skin as clean as you'd think. Using Sonic Technology, Clarisonic's patented micro-massage motion works within skin's natural elasticity to gently remove the impurities traditional methods leave behind, leaving skin softer, smoother and more beautiful.  Clarisonic sonic skin cleansing system was named among Oprah's Favorite Things and has made it into the good books of celebrities including Gwyneth Paltrow, Courtney Cox, Fergie and Liv Tyler.
Clarisonic looks like a gigantic electric toothbrush.  The head of the beauty device uses "a patented sonic frequency" of 300 movements per second as the tiny bristles oscillate back and forth, gently foaming up your face with your favourite cleanser. As you can imagine, this gentle but speedy vibration allows the bristles to cleanse into pores and fine lines where a normal washcloth cannot.  As a result, this prep work with the Clarisonic device prepares skin for better absorption of creams, serums and moisturizers.
I've been incorporating the Clarisonic Mia 2 into my recent skincare routine and here are my thoughts on it, broken down into Pros and Cons.
Pros
Soft brush head gentle massages your skin, which feels like a mini-facial.
A 1-minute pulsing "T-Timer" which indicates when it's time to move on to cleanse the next area of your face (forehead, cheeks, nose, chin).
No batteries required – the Clarisonic Mia 2 comes with a rechargeable, magnetic plug. When fully charged, the system should last for 24 rounds of 1-minute cleansing.
Cons
When cleansing the forehead area, the foam generated from the cleanser got into my eyes.
The product is relatively compact, but it's still a bulky addition to a bathroom without much counter space – especially when I am charging it, I feel like I'm always going to knock it over.
Not recommended to use while you have eyelash extensions on (such as myself, currently).
Modern Mix Vancouver would love to give you the opportunity to try out the Clarisonic Mia 2 for yourself!  Check out our giveaway below.
MMV Giveaway: Modern Mix Vancouver is giving away a Clarisonic Mia 2.  To enter, please "LIKE" the MMV Facebook Page by clicking here and ALSO leave a comment below about why you're excited to try this device. A random winner will be chosen from the comments below. Giveaway ends Sunday March 3rd (11:59pm PST). Open to anyone in Canada.
For an additional entry: Follow @ModernMixVan on Twitter and tweet "Win from @ModernMixVan a Clarisonic Mia 2! #SonicPower Click here: http://bit.ly/W1pMoZ | RT to enter!"