Converge on Main Shopping Night (Thursday Feb 28, 6pm to 9pm)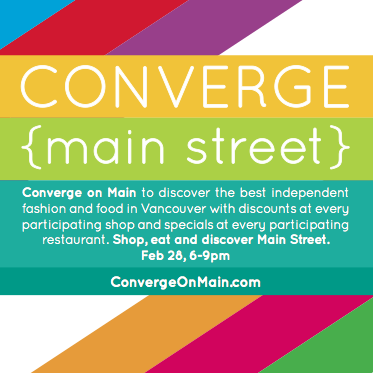 Despite poodle statue controversies, Main St. is one of Vancouver's hottest shopping destinations for independent retailers.  From modern homewares to local fashion, the strip between 16th and 28th avenue is hipster heaven. And on Thursday February 28, from 6pm to 9pm, shops will stay open after dark for Converge on Main.
"The first Converge on Main was such a success that it was obvious we needed to make this a twice yearly event," says organizer Glencora Twigg. "It's amazing to have fashion and food over 10 blocks band together to bring customers a fabulous night of shopping and discounts."
Retailers are offering between 10-70% off on new spring arrivals and transitional fall stock. So fill up your car with fashionistas and head to Main Street and shop like the hipsters do. When you are ready to drop, head to Portland Craft or Chai Lounge for specials on drinks and dinner.
The 14 participating retailers include: Barefoot Contessa, Beansprouts, Bohemia Gallery, Devil May Wear, The Hach, Hazel & Jools, The Lip Lounge,  Lut Boutique, Motherland, Shine Jewels, Soap Dispensary, Twigg&Hottie, Two of Hearts, Vancity Glass Galleries and Vancouver Special.