Dutil is a niche clothing store that focuses on a very common item: jeans. Having opened in Vancouver's Gastown in 2006 and enjoying market success over the past few years, they have expanded into Toronto in 2011 and are targeting expansion into international locations in the near future. Modern Mix Vancouver had a chance to catch up with the store's founder, Eric, where we discussed how the store originated and his insights and inspirations surrounding denim.
Eric conceived of the idea to open Dutil while working in the optical industry, where it became apparent to him that apparel stores did not need to focus on a wide range of products. If eyeglass and sunglass shops can thrive selling only one type of product, so too can stores concentrating on denim, which is more common and universal. Many people own some form of eyewear, but almost everyone has a pair of jeans.
What are some upcoming trends for denim?  Dutil claims to have helped to popularize raw jeans into the Vancouver market, and while it is unlikely that raw will ever fade into obscurity, nothing can stay on top forever in fashion and the washed jean, including more colors and prints, are predicted to rise in prominence. In terms of denim cuts, for women the current trends point towards high-waisted skinny and straight cut jeans while for men the straight legged and slim-straight cuts will continue to hold firm.
Skinny jeans will never go away for women, but for men,  Eric sees it to be more of a fad that has lasted longer than anticipated. Going forward, the leg openings will trend to become wider, which is reflected in dutil's own store brand that has created a consistent, slim straight fit for the everyday man. Aptly named the quintessential series, this was the pair of jeans that Eric was wearing on the day we spoke.  Other brands Dutil carries include APC, Nudie, Fidelity, Naked & Famous, Levi's.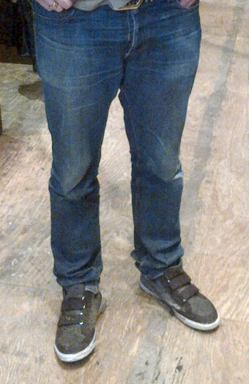 Dutil's present successes have not necessarily come easily. The retail marketplace is competitive with many niche retailers in Gastown and the increasingly aggressive pricing of online clothing outlets. The storefront's prosperity and its bid to stay relevant going forward depends on the services and catering it provides for the consumer beyond curating and stocking denim. Dutil trains its staff to take pains in helping their customers to find the perfect fit and wash for their style and body type, and their aim is to cater to consumers from both ends of the spectrum – those who are new to denim and those who are veterans.
To extend their brand cachet, dutil is also involved in several events and a record label as Dutil Records, which emphasizes paying for music in the form of a vinyl disc. With an upcoming record release this year and special upcoming events in February and March, there is plenty of life left to be lived for this brick and mortar denim shop.