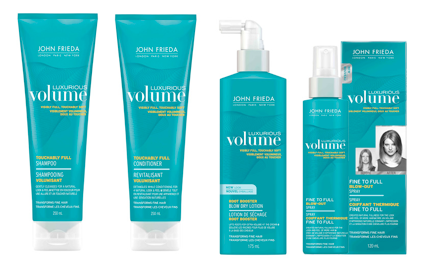 Last week Modern Mix Vancouver had the opportunity to meet with Alain Larivée, brand creative consultant for John Frieda in Canada. To launch the reinvented Luxurious Volume line, we were treated an hour of live demonstrations and Alain's volume boosting style tricks.
The salon-developed products have recently reformulated four products from their Luxurious Volume line meant to transform flat, fine hair into soft, voluminous hair. A true believer that great hair starts in the shower, Alian suggests setting your foundation with the Touchably Full Shampoo ($10.49) and Touchably Full Conditioner ($10.49). Both products are lightweight and meant to leave your hair feeling light, naturally soft, and full.
The rest of the Luxurious Volume line is based on heat activation so Alain recommends always starting with at least damp hair (don't have time to shower? Try recycling a spray bottle and filling with water. Spray on dry hair to smooth out kinks or fussy sections). With that base, Alain showed us how to prep hair with the Roost Booster Blow Dry Lotion ($10.49) and the Fine to Full Blow out Spray ($14.99):
Add Volume with a Blow Dryer – Alain suggests using the directional nozzle attachment on your blow dryer so that you can concentrate heat on certain parts of your hair (hint: This round attachment comes with most hairdryers and has a thin opening). When using the Root Booster Blow Dry Lotion, you want to point the blow dryer at a 45º angle. It all depends on the amount of lift you are trying to accomplish. The closer you get to a 90º angle, the more of dramatic lift you will get.
Adding Volume with a Curling or Flat Iron – The Roost Booster Blow Dry Lotion is meant to protect and strengthen you hair from heat, especially if you are planning to use a curing or straightening iron after. The key with heat styling is to let the style set before running your finger or a brush. If you don't let your hair cool down your carefully crafted style will never have a chance to set. For those who love straight hair with added volume, Alain suggests aiming only to straighten your ends to maintain body throughout the rest of your hair.
Whether you're looking to add little something to regular routine, or curious to switch to a new line of products, the Luxurious Volume collection is both an affordable and accessible option. The entire line is now available in drug stores across the province and local salons. For more information on the John Frieda Luxurious Volume collection, learn more here.