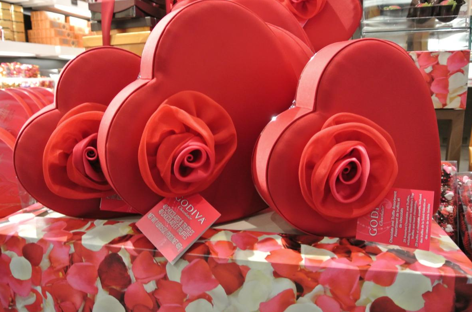 Valentine's Day is the busiest day of the year for Godiva Chocolatier at Metropolis at Metrotown. Godiva's most popular Valentine's Day gift is the Satin Heart Gift Box, where customers can personalize their gift to the taste of their loved one, by handpicking from an assortment of Belgian chocolates. For $50, you can pick 15 Belgian chocolate pieces, or for $75, you can pick 29 Belgian chocolate pieces.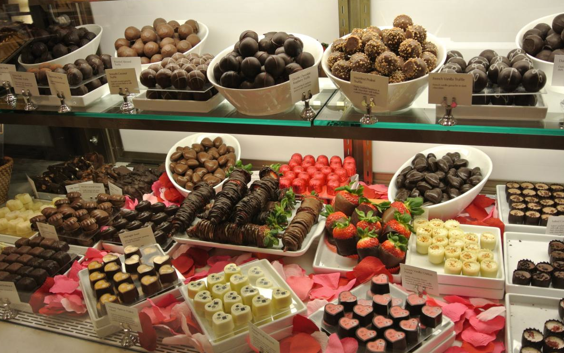 Here are some unique individual chocolates, which you may be interested in gifting (or trying for yourself!) this Valentine's Day season:
Strawberry Lychee Heart – strawberry and lychee fruit ganache layered atop a macadamia cream with a hint of crunch in a dark chocolate shell.
Honey Apricot Praline Heart – apricot mandarin ganache infused with honey, layered atop a caramelized hazelnut praline in a milk chocolate shell.
Salted Caramel Parfait – salted caramel layered with milk chocolate glaze in a dark chocolate cup, sprinkled with chocolate bits.
Chocolate Lava Cake Truffle – dark chocolate ganache with liquid fondant in a dark chocolate shell.
Pineapple Hummingbird Truffle – pineapple and banana ganache with cream cheese frosting in a white chocolate shell.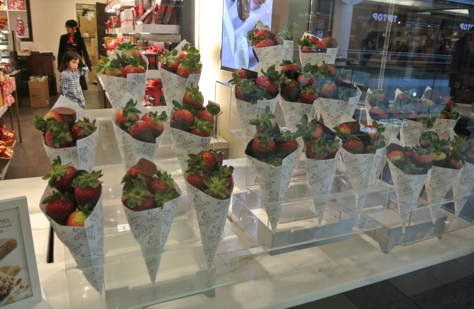 Another popular Valentine's Day gift are Godiva's "Chocolate Kissed Strawberries". Staff at Godiva at Metropolis start work at 6am on the morning of Valentine's Day to dip strawberries in dark, milk and white chocolate in preparation for over 100 orders they receive for that day. If you walk by Godiva at the right time, you can watch their staff dipping strawberries in chocolate in the storefront window. By sure to stop by and check it out. Godiva at Metropolis at Metrotown is located on the upper level by Zara and American Eagle.
This article was originally posted on the Metropolis at Metrotown Blog.