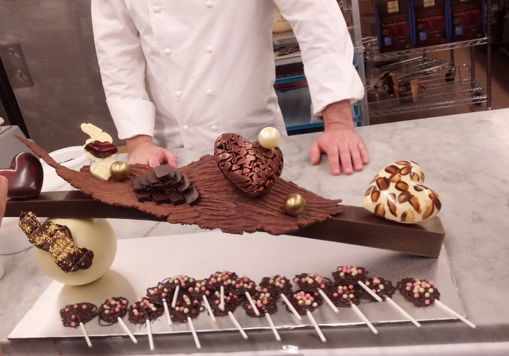 Last Thursday, Modern Mix Vancouver attended the celebration of Chocolate Arts' 20th Anniversary at their recently expanded location on West 3rd Avenue in Vancouver – they moved there in August 2012. The private media event featured delicious chocolate creations made from the finest ingredients and raw chocolate from Belgium and France. I sampled a selection of gourmet chocolates, each so different in taste but similar in their premium hand crafted quality.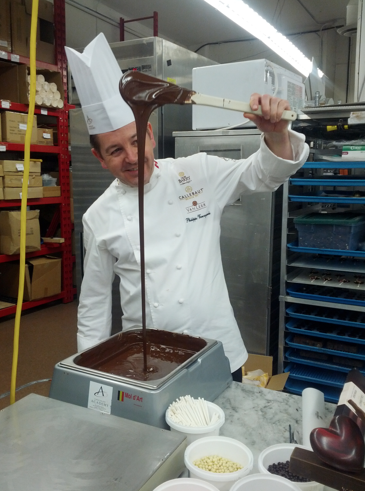 The anniversary event was organized in a way where fine chocolates and hot chocolate shots could be sampled at the front of the store, while guests were invited to the back kitchen where all chocolates are made in-house. That evening, special guests Greg Hook and Philippe Vancayseele were in the kitchen entertaining guests with their witty humor and of course creating a variety of chocolate delicacies to sample.
Greg Hook is a Chocolatier at Chocolate Arts, and is your go-to guy for everything chocolate. He can tell you all the different types of chocolates available, and their percentages of cocoa and sweetness for each – I was impressed to say the least! Under his recommendation, I sampled a hot chocolate shot (which Chocolate Arts is also known for) made from madirofolo chocolate. The miniature sized drink tasted like rich dark chocolate and was fruity but not too sweet or artificial.
The second special guest of the evening was Philippe Vancayseele, Technical Director at Cacao Berry, a Belgium company that Chocolate Arts purchases their chocolates from. Philippe flew in from Montreal for the celebration, and treated guests to all sorts of unique chocolates, impressing us with his skill and precision while he incorporated art into his chocolate creations.
A popular topic of discussion during the event was Chocolate Arts' participation in Vancouver's 3rd annual hot chocolate festival this year. From January 19 to February 14, select venues and shops are serving specialty hot chocolates in flavours that you've only ever dreamed of. Chocolate Arts has two exclusive hot chocolates available for a limited time only during the festival. The first is called When Pigs Fly, a Coca Barry signature hot chocolate topped with maple and bacon marshmallow and served with a peanut butter cookie.  The second hot chocolate is called Armoury Amour, a darker hot chocolate with a hint of raspberry and served with a mini lemon and basil ice cream sandwich.
With Valentine's Day is just around the corner, there's no better occasion than now to give that special someone a special gift from Chocolate Arts. Or why not satisfy your sweet tooth and visit Chocolate Arts or one of the participating venues during the hot chocolate festival to try their uniquely flavored hot chocolates – you only have until Valentine's Day to do so! If you're in the area, drop by Chocolate Arts and say hi, and check out the art they create out of fine chocolate on a daily basis. You can also visit them online at chocolatearts.com.
photo credit: Kevin Lee