Tonight, I had the opportunity of attending Oprah's event, alongside 18,000 others at a sold out show at Roger's Arena. I had no idea what to expect – as Oprah said, "I don't dance, I don't sing", so why are all these people here? Because we wanted to, in person, see with our very own eyes and hear with our very own ears, the woman who has inspired millions across the world and made a difference with her influence for the betterment of our society.
Oprah is an amazing and powerful storyteller.  What I liked best about her was her reliability  – "the only difference between someone who is famous from someone who is not, is more people know your name".  She humanizes her experiences by not just talking about her successes, but also her failures.  For example, how 2012 "kicked her butt" because starting her own television network (O.W.N.) was a lot harder than it looks and every time she made a mistake she had to watch it on the 6 O'Clock News.
She spoke about how, growing up, she wanted to be a broadcast journalist and the challenges she had to overcome.  She spoke about all the times people didn't believe in her, or didn't think she could do something – but she went and did it anyway.
She spoke about how her grandmother told her to pay attention while she was hanging up laundry and churning butter because one day Oprah would have to do it too – "nuh uh" thought Oprah, "nuh uh" said the voice inside her head.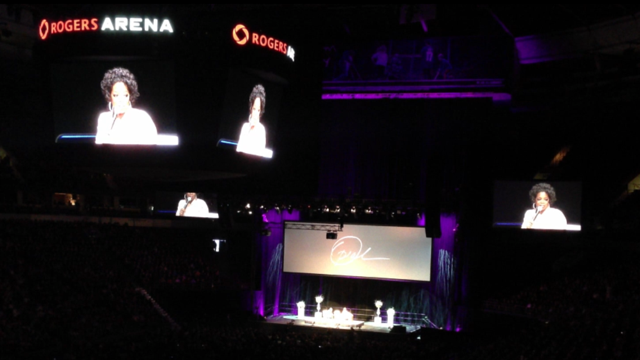 What Oprah did tonight was just get up on stage and did what she has done best for 25 years – share stories and connect with her audience with relatable tales of her childhood, overcoming stereotypes and listening to her intuition, all wrapped up in a highly inspirational but humorous and entertaining evening.
The Oprah Winfrey Show was started before I was even born and was the number one talk show for 24 consecutive seasons with over 40 million viewers a week in the US.  This is clearly a lady with life experiences worth sharing and the powerful and engaging voice to tell her story to the world.  Here were some of my favourite quotations and life lessons from Oprah this evening and my interpretations of what she meant:
 "Everything you do has already been done to you" – a different way of looking at karma.
"When things aren't going the way you want, you gotta shift your paradigm" – if you can't change your situation, then change your attitude or the way you're looking at the situation.
"It's not luck, it's preparation meeting the moment of opportunity" – so be ready and be prepared!
"Do the best you can…then release and let it go…" – don't drive yourself crazy over things you can't change. Just do your best.
"A trial brings you closer to the person you are meant to be" – all situations, good or bad, are meant to shape you.
"Life first speaks to you in whispers. Things don't happen out of the blue" – watch out for signs and listen to your intuition.
"Gratitude changes your energy field, don't take anything for granted" – always be grateful.
"When you lose your job…it's just life moving you in a different direction" – a positive spin on a situation which is usually devastating.
"Find a way to get paid for being yourself" – and you'll never have to work another day in your life.
Can you relate to any of the lessons above?