Moxie's Grill and Bar – Bocuse d'Or Culinary Olympics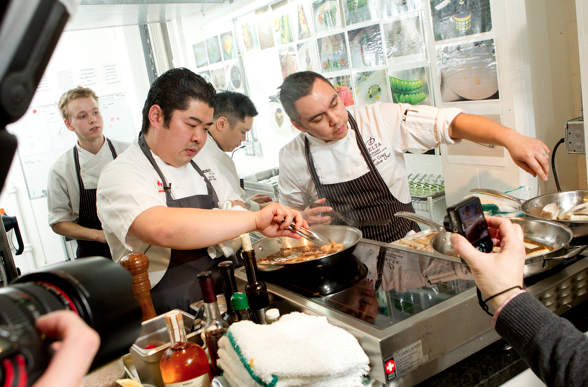 By Kenneth Law, Modern Mix Vancouver writer
Modern Mix Vancouver would like to extend a round of applause and a well-wishing toast to Chef Alex Chen (Culinary Architect for Moxie's Grill and Bar) on his entry to the bienniel Bocuse d'Or championship. Widely considered to be amongst the most prestigious culinary competitions in the world (alongside the International Exhibition of Culinary Art), Alex and his team will enter the contest representing Canada against 23 other candidates from other countries around the world on January 29th and 30th in Lyon, France. It was a pleasure and honor to have pre-sampled his potential creations for this upcoming competition this past Sunday at the Railtown Café, which housed his private test kitchen for the competition.
This year's contest format will feature the chefs using a very strict 5 hours and 35 minutes to prepare a meat and fish dish, with the theme items being selected this time to be the Turbot and European Blue Lobster and the Irish Beef Filet. Alex did a fantastic job with both of the dishes, which had very memorable tastes and textures with excellent choices in carbohydrate and garnish pairings to balance the flavors. I have recently become discouraged by fine dining with the lackadaisical ideas and dull flavors that have been on offer at certain establishments in town, but it is immensely refreshing and satisfying to taste and understand what a high-intensity chef with a strong reputation, one that is good enough to carry Canada's banner to Lyon, has to offer.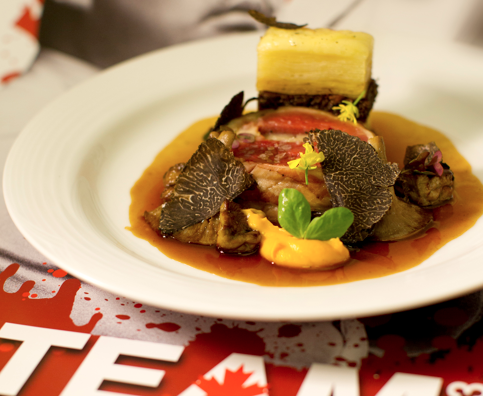 The lobster was buttery soft and fills the mouth upon first bite, while the turbot fish had some of the most delicate textures in a fish that I have tried. Both were not strong in flavor intensity, but the dish came with a cauliflower puree and lobster vinaigrette that the patron could use to strengthen the fish to their liking. The Irish beef filet is where Alex's abilities shone – amazing texture, just the right amount of flavor and excellent side compliments – foie gras, trumpet mushrooms, ox-tail and shaved truffles to balance out the protein. To top it off, in the middle of the filet was the bone marrow, which is the first that I have ever tried and one that I will never forget. Hats off to the best beef dish that I have ever tasted and a solid fish dish – I'm cautiously optimistic that Canada could have a shot to win a medal in the competition.
There should also be mention towards the wonderful service and appetizers provided by the staff at the Railtown Café. The paté selection, meats and cheeses, macaroons and champagne were top-notch compliments of the Railtown's catering services. The location was spot-on, tucked away east of Main Street near Gastown by Railway St. & Dunlevy Ave in a quiet, chic and surprisingly clean neighborhood that is worth checking out again on another sunny weekend afternoon.