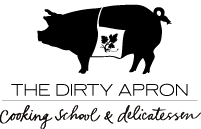 Modern Mix Vancouver was at the opening of Dirty Apron Cooking School back in 2009.  Over three years later, I've finally had a chance to return as a "student" for a team building event with my workplace.  As a recap, Dirty Apron was opened by the same owners as Chambar and Medina and provides gourmet cooking classes  in a diverse array of cuisine types.  Described as a "culinary playground", genres of cooking you can participate in include Ooh La La (French), Mamma Mia (Italian), Ocean Fling (Seafood), and Ocean Potion (Westcoast Seafood).
Naturally, Dirty Apron expanded into corporate team building and private events because there is no better way to bring a group of people together than to learn a new skill together, and then dine together.  At the private team building event I attended, our group of approximately 25 people were split into three teams for some friendly competition.  Each team was responsible for cooking either an appetizer, main or dessert course under the guidance of a Dirty Apron chef in a state of the art kitchen.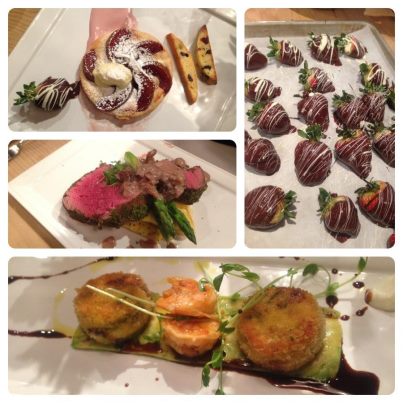 Here's what we made:
Appetizer – Dungeness crab cakes and smoked paprika frilled prawns with lemon citrus
Main Course – Wild mushroom & truffle crepe with herb-crusted beef tenderloin medallion
Dessert – Trio of Desserts: chocolate soufflé, biscotti biscuits and chocolate-dipped strawberries
The crab cake appetizers were professionally presented on a rectangular plate with garnishings and artisic drizzles of balsamic vinegar and tasted delicious.  For the meaty main course, I didn't envy the team who had to cut large slabs of raw meat (remember, this was a dinner for 20+ people) and take off the fatty parts.
I was on the dessert team, and specifically responsible for baking biscotti.  After making the dough base for the biscotti, my baking parter and I were given the freedom to put in whatever ingredients we wanted as toppings.  He chose pistachio and dark chocolate chip for half the batch, while I put in dried cranberries and grated orange zest.  An abundance of other toppings were available including apricot, white chocolate chips, almonds, etc. – availability completely depends on what the Dirty Apron chefs happened to have in their kitchen storeroom.
After each course was cooked, the team responsible for the course had to present and serve their dish in a creative and entertaining manner.  Then the entire party sat at a long, wooden communal table to enjoy the meal accompanied with wine.  At the end of the three-course dinner, we voted on our favourites and the winning team got office bragging rights.  Everyone received all the recipes to bring home after the course so you can remember what you learned and attempt to re-create on your own.
Overall, cooking at Dirty Kitchen was a really fun experience – you get to do all the fun parts of cooking and eating without the chore of grocery shopping or doing the dishes.  I'd highly recommend the Dirty Apron the next time you are looking for a corporate group activity.