White Spot Christmas Charity Lunch (Dec 25, 2012)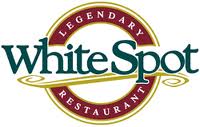 For more than ten years, the Richmond Centre and Kingsway Vancouver (1467 Kingsway) White Spot restaurants have celebrated the season of giving by serving White Spot favourites on Christmas Day to raise money for charity.  On December 25, management and staff from both White Spot locations will generously donate their time, tips and net proceeds to the Richmond Hospital Foundation and Variety – The Children's Charity. In 2011, the two restaurants raised more than $13,000 and hope to break that record in 2012.
Friends and family are invited to share a meal at either location between 11:00 a.m. and 3:00 p.m. and help support a worthy cause over the holidays.  Follow @White_Spot on Twitter for more information.