A Tour of Vancouver-Based Parallel 49 Brewery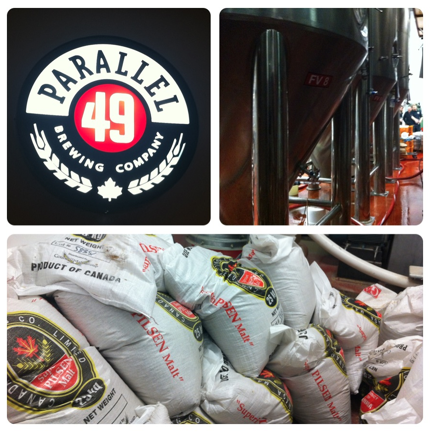 Modern Mix Vancouver had the opportunity to tour local beer brewery Parallel 49. Even though the brewery only started 6 months ago in May 2012, chances are, you have already seen their eye-catching beer bottles in restaurants and BC Liquor Stores with colourful labels and wacky names names including Seedspitter, Old Boy Classic Ale, Gypsy Tears Ruby Ale and Hoparazzi.
Parallel 49 was started by five self-proclaimed beer geeks (three of which own St. Augustine's Craft Brew House & Kitchen on Commercial Drive). They were just a bunch of guys who loved beer, tossed out the idea of starting a brewery and made it happen!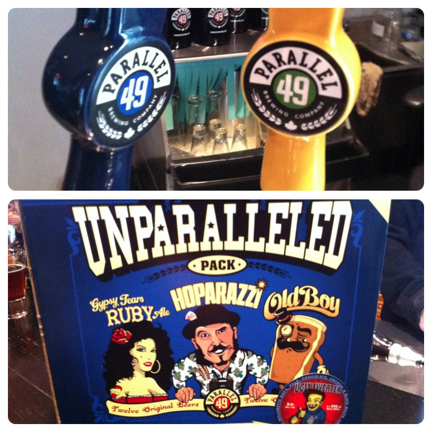 Parallel 49 carries 3 lines of beer which are available year-round:
Gypsy Tears Ruby Ale – their best seller, an American-style red ale.
Old Boy Classic Ale – a classic ale with a chocolatey finish.
Hoparazzi – an Indian Ale pale lager with a hoppy, bitter finish.
However, each season an exciting limited-edition 4th flavour is released.  In the summer it was the watermelon Seed Spitter, in the fall, the Schadenfreude Pumpkin Oktoberfest.  The current seasonal flavour for winter is Parallel 49th's Ugly Sweater Milk Stout.  Bring a case to your next holiday party – it'll be a definite conversation starter.
For the best introduction of Parallel 49 Beer, you can find their "Unparalleled" variety 12-pack at local BC Liquor Stores for $23.50, which consists of the brewery's 3 standard brews and the rotating seasonal flavour.