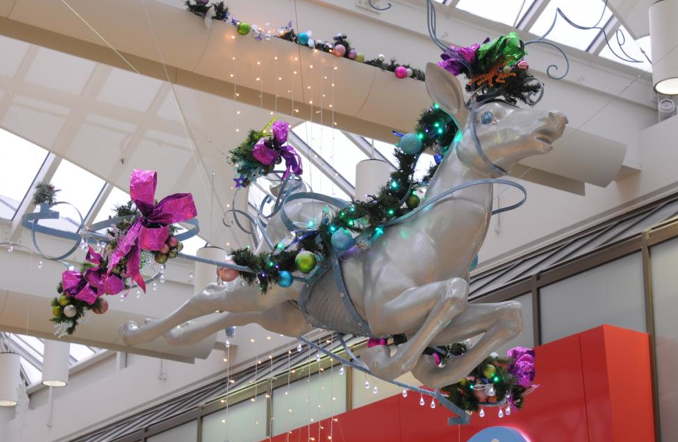 Modern Mix Vancouver recently started writing guest posts for the Metropolis at Metrotown blog.  While scouring the mall for beauty, skincare and fashion picks, we came up with a list of 10 tips to maximize your shopping experience at Metropolis; during the busiest time of year. Even with extended shopping hours in the week leading up to Christmas, it can get pretty crazy while hustling and bustling for gifts in December.
Here are Modern Mix Vancouver's ten tips to navigate your way through Canada's second-largest mall and maximize your holiday shopping experience:
Bring a Friend – Find a friend who is also doing their holiday shopping and head to Metropolis together. You can give each other a second opinion on potential purchases.
Take Public Transportation – Metropolis is located steps away from Metrotown Skytrain Station and numerous bus routes stop at the mall. Avoid traffic and take public transportation instead!
Make a Shopping List – Do some thinking beforehand and make a list of who you are shopping for, what they'd like, and your budget. With over 450 shops at Metropolis, you may be overwhelmed by selection so come prepared with a shopping list that you can refer to.
Know Your Sizing – If you are shopping for apparel for a gift, make sure you know the approximate sizing of who you are shopping for. This'll take the guess-work out of shopping and save you time deciding in-stores if something is the correct size.
Arm Yourself with a Store Directory – If you are unfamiliar with the mall, it's helpful to know what shops you are close to and group them together.
Plan Out Your Shopping Route – Planning ahead ensures you aren't wasting time running back and forth to different wings.
Look For Sales – many shops are starting to have "pre Boxing Day" sales. You may be able to find some great deals while you are shopping for gifts so keep an eye out for sale items.
Don't Forget Stocking Stuffers – Don't forget about smaller items as gifts and keep your eye out for stocking stuffers!
Take a Breather – Metropolis at Metrotown is beautifully decorated during the holidays. Take a breather, sit down on one of the benches located throughout the mall, and admire the festive décor.
Reward Yourself – While shopping for others, if you see something that'd be great for don't hesitate to reward yourself for your hard work! It's tough shopping for others, why not treat yourself too?
Don't forget, between December 17 to 23, Metropolis at Metrotown is open between 10am to 11pm for Moonlight Madness. Happy holidays and happy shopping!