Join The HiVE for 'A Celebration of Dignity', a gala fundraiser to celebrate the lives positively affected by Beauty Night Society and to toast the 12th Anniversary of this life changing organization. The evening will feature a fashion show to showcase eco fashions modeled by the women who have participated in the Beauty Night program. Attendees will also be entered into a raffle draw for some fabulous prizes.
The evening will be hosted by Canadian motivational speaker and comedian, Jessica Holmes. Kristiana Banden, finalist for Miss World Canada 2013, will also be speaking as an Ambassador for Beauty Night. The fundraiser will bring together the Beauty Night community as well as local organizations and businesses.
Tickets for this fundraiser are available to purchase online via EventBright.  Use promo code "bnsbffs" to receive a 50% discount off tickets.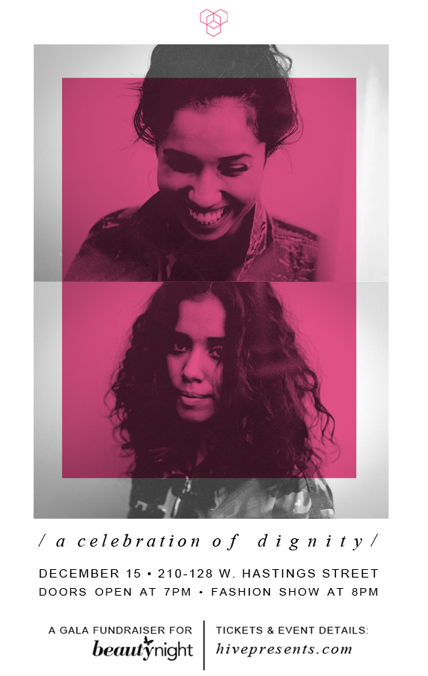 If you want to help support this cause but can't make it to the event, you have the option of sponsoring the Beauty Night Volunteers, who provide services year round, to attend the event and join in the 12 year anniversary. The HiVE has created a Giving Page and will match charitable donations dollar for dollar towards tickets for volunteers. Those who donate will receive a tax deduction and the hard working volunteers receive a night of recognition.
Modern Mix Boutique will be providing the generous and supportive attendees of this event with a discount to our online boutique 🙂