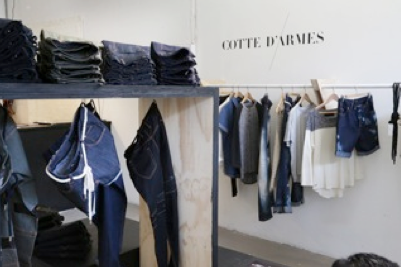 Not too long ago, the district manager for Aritzia, Ann Nguyen, was launching Aritzia's first store in New York when she met designer, Clarence Ruth. From there, only good things have happened. In less than a month, the two have brainstormed a way to bring something new to the Vancouver fashion scene. In doing so, they have setup a pop up shop in Chinatown featuring Cotte D'Armes F/W '12 denim collection and S/S '13 preview by Clarence Ruth.
This afternoon, Modern Mix had the opportunity to meet with Clarence and discovered a truly unique story behind this edgy, new-to-Vancouver brand.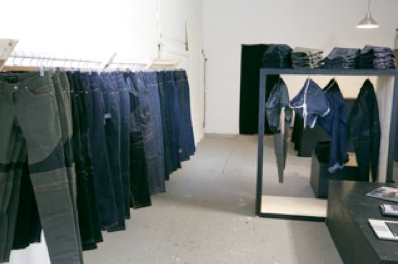 On his inspiration for Cotte D'Armes – Both his parents were in the military, so Clarence grew up around that whole environment. Cotte D'Armes directly stands for "Coat of Arms" or, in his favorite translation "a symbol of clothing that represent your affiliation." In the world of fashion, this fits perfectly with the idea of personal style as representation of who you are.
On the pop up shop in Vancouver – No stranger to Vancouver, Clarence already loves the city and has been traveling back and forth since he was younger. With a great appreciation for the city, he and Ann saw a gap in the market for what they were doing. After meeting with buyers in Gastown, they found something interesting – an appetite for edgy, fresh and new styles, particularly in the world of denim.
On Denim – Having created full collections in the past, Clarence quickly realized his specific talent with denim. On the front of all Cotte D'Arme bottoms, the waistband and zipper fold are one, a signature look of his pieces that is mean to give a tighter fit. Clarence believes that the sign of quality clothing are first, material, and secondly, the ingenuity of the design features which can be clearly seen throughout his entire collection.
On What's to Come –  His 4th season for Cotte D'Armes is inspired by military and biker styles and the S/S '13 is all about dark navy described as navy seal gone rouge including distressed, bleached treatment, rips and studded details. One of my favorite shirts in his men's collection is based off WW1 sailors top with, 3/4 length sleeves, detailed neckline, full darting and details that carry across the rest of collection.
The Chinatown Experiment Cotte D'Armes by Clarence Ruth Pop-Up store will be in Vancouver until December 2, at 434 Columbia Street, Vancouver, BC. Tempted by the story and uniqueness of this brand, I ended up walking awaywith a pair of slim zipper indigo blue jeans. To get a pair, or to check out this brand online, get inspired by visiting their website online, or contact Ann directly at cottedarmes@facebook.com.