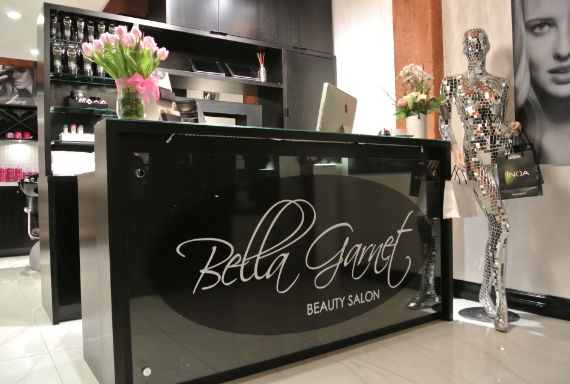 Located on Hamilton Street in Downtown Vancouver, Bella Garnet Beauty Salon (1042 Hamilton Street) is exactly what a beauty salon in the trendy and upscale Yaletown neighbourhood should be. Opened earlier this year, Bella Garnet is your one-stop beauty salon, focusing on hair, nails and facial waxing. Run by Isabella Flores and her team of "Bellas", the salon is bright, spacious and modern.  The clean and upscale setting of Bella Garnet makes you want to relax and stay awhile, letting the Bellas do their thing.
Using only L'Oreal INOA for ammonia-free hair colouring, and luxury hair product line Kerastase for shampoo and conditioning, your locks are in good hands at Bella Garnet.  I went in on a Friday night to get my hair highlighted and I was ready for a night out on the town.  (In fact, my curls lasted two night, so that was two nights out for me!)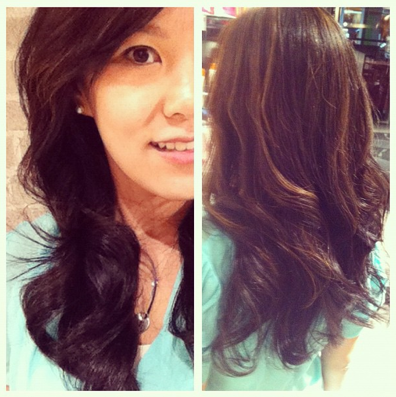 The next day, I booked an afternoon appointment for my nails and I was extremely satisfied with the Bio Sculpture gel nailpolish manicure.  Manicurist Yuri Song, with her amazing artistic talent and careful attention to detail, hand-painted each of my nails with a delicate, fine-tipped paintbrush.  I simply showed her a few nail styles I liked (pastels, stripes, polka dots, glitter, heart, etc.) and she was able to produce 10 works of art with my nails as the canvas.
I have received SO MANY compliments on my nails.  In fact, I now carry around a stack of Bella Garnet business cards and hand them out because so many random people are constantly complimenting me on my nails and wanting to know where they can get them done too!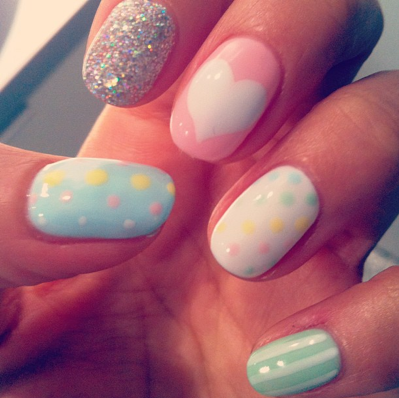 Bella Garnet is also actively involved in the Vancouver fashion industry, sponsoring or attending parties as an entire team.  Some events that the Bellas have been spotted at include Get Cooking with the Stars, Vancouver Fashion Week and Fashion Cares for Beauty Night Society.  What does this mean for you?  A better team environment, means happier stylists at the salon, which means they'll try harder to ensure every client leaves Bella Garnet looking and feeling fabulous.
In terms of price, haircuts begin at $50, highlights at $100 and the gel nails are dependant on the complexity of the design.  To get what I got, you're look at around $80. Gel nailpolish is always more expensive than a regular manicure), but you are looking at a no-chip lasting time for at least two to four weeks!
Furthermore, according to the Bella Garnet Facebook Page, there is also a 15% discount for Yaletown residents and a 20% discount for pre-booking your appointment. However, you may want to call the salon in advance at 604-563-6252 to ensure this deal is still valid.
With the upcoming holidays, this is the perfect time to start thinking about styling your holiday look.  Stay in touch with Bella Garnet on Facebook here, or visit Bella Garnet in-person at 1042 Hamilton Street.