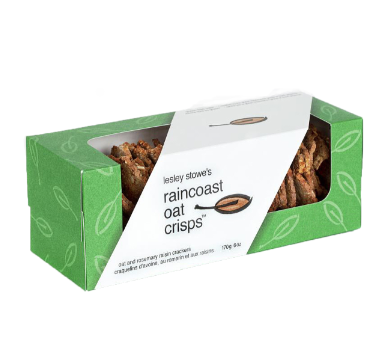 After the successful introduction of six flavours of the original "Raincoast Crisps" recipe, the Vancouver-based Lesley Stowe is launching her newest creation, the wheat-free Raincoast Oat Crisp, at Whole Foods Market and select fine food retailers in Vancouver. Created for health-minded consumers and those with gluten sensitivities, the Raincoast Oat Crisp will be initially available in two of Lesley's famous flavours: Original Raincoast Oat Crisp and Rosemary Raisin Raincoast Oat Crisp.
Just like the original recipe, the sweet-savory Raincoast Oat Crisps are baked in small batches from scratch using the finest quality, all natural ingredients. They can be enjoyed on their own for a delicious snack or can also be topped with cheese or dip.
I am looking forward to trying these out at my next social gathering!