Aruhndara Yaletown – November Promotion
Last month, we wrote about the new Aruhndara Thai bath and body boutique in Yaletown.  Boutique owner Khanita Chakritthakoon promised that if I visited her again, I'd get to experience one of her amazing neck and shoulder massages which comes from over 15 years of experience working in the spa industry in both Thailand and Vancouver.  With a sore back and neck which comes from working at a computer over ten hours a day, I took Khanita up on her offer and returned to Aruhndara.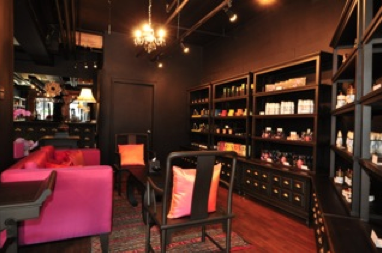 Although this not an official service Aruhndara offers, the layout of the store with a bright pink silk couch, dark wooden chairs and a coffee table, is well-suited for skincare consultations and mini-massages like mine.  For those who have visited Thailand, the product scents that Khanita has selected for her boutique will bring back memories of the Far East.
November's promotion at Aruhndara is for Eastern Treat, which has the scent of Jasmine, Rice and Mint.  If you purchase the Eastern Treat Shower Gel and Body Cream together for $55, you will receive a $25 voucher towards a Thai Massage at Sweet Pea Wellness as well as a $10 voucher towards your next purchase at Aruhndara.  This was the package my boyfriend purchased for his mom as a birthday gift.
If you are looking for a product with a similar scent but not for bath or body, there is an excellent reed diffuser Aruhndara just got in stock – an item that'll definitely make it into MMV's holiday gift guide later this month. Stay tuned for more details!