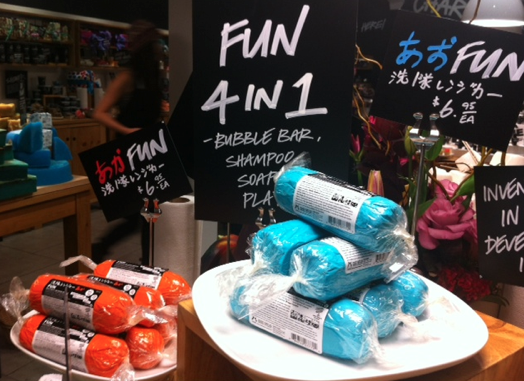 LUSH Fresh Handmade Cosmetics has done it again and invents yet another fun, colourful product; be a kid again and have some "FUN"!  The newest product from LUSH is a multi-purpose, moldable soap which acts as a 4-in-1 product for body, hands, hair and bath.  You play with it like Playdough, molding it into different shapes and textures, but as soon as FUN touches water, it works as soap.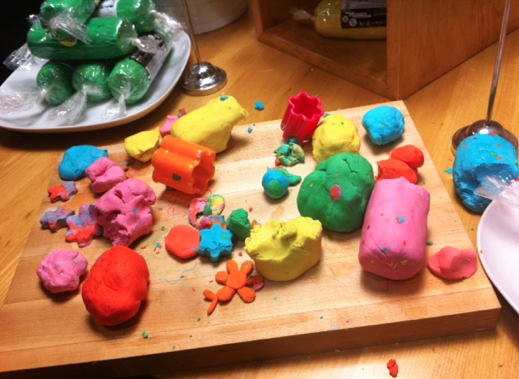 FUN is available in five simple colours, each with its own scent.  My favourite is "Green Fun" which consists of a refreshing citrus burst of tangy lime and lemon essential oils.  Meanwhile, "Blue Fun" is the opposite with soothing lavender and chamomile for relaxation.  Like all of the products at LUSH, FUN is fresh made by hand using vegetarian ingredients.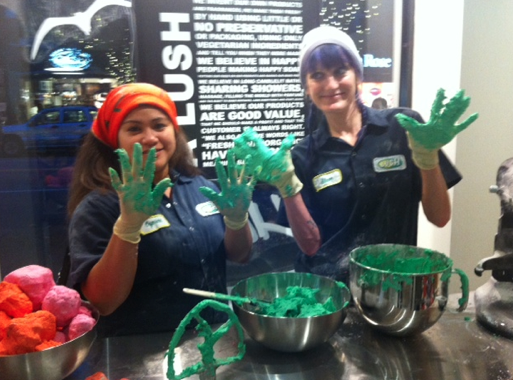 If you notice Japanese signage promoting this new product, it's because of the charitable "FunD" that Lush is providing to Japanese charities.  Through previous work LUSH has done with Japanese charities after the 2011 earthquake, tsunami and nuclear disaster, Lush is aware that the children's situation has yet to improve due to radiation concerns in the area.  With the FunD, a portion of the global sales of FUN will be distributed as grants to projects providing recreational activities for children living in difficult surroundings.
FUN is now available in-stores at LUSH locations including 1020 Robson Street and Metropolis at Metrotown.