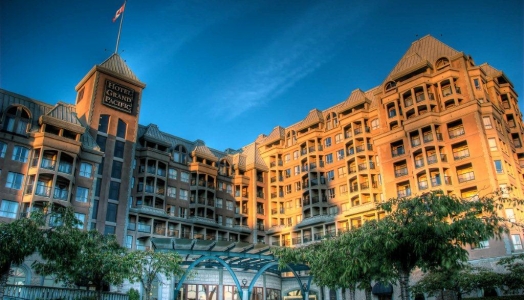 Modern Mix Vancouver recently visited Victoria for a weekend getaway at the Hotel Grand Pacific, located right on the beautiful Inner Harbour in the heart of downtown Victoria.
Upon arrival on Friday night, I was greeted with hints of what the weekend had in store for me: Thomas Haas truffles and gelees and a tin of Silk Road Grand Pacific Tea, a special blend of organic tea made specifically for the hotel.  Victoria has a long association with tea, but the Hotel Grand Pacific's distinguished tea program is heavily influenced by Asian culture.  Teas are curated in the same way that a sommelier chooses a wine list, and the hotel works with Silk Road Tea Company's resident Tea Master on both the selection and staff training.  Throughout the weekend, I'll be encountering several elements of the hotel which have an oriental theme.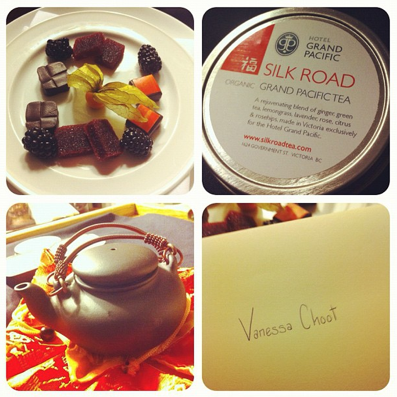 The next morning, I was booked into the Hotel Grand Pacific's SORA Spa for a two-hour full body Thai Massage.  Formerly known as "Spa at the Grand," the spa has been renovated, reimagined and rebranded in recognition of the Asian thread that runs throughout the hotel.  My experience started off  with a warm jasmine-scented towel and a selection of Silk Road tea from the tea bar.
Thai Massages uses gentle stretching and manipulation of the body and limbs to release tension and improve energy flow. Just like the massages in Thailand, the SORA Spa massage was conducted on a mattress on the floor.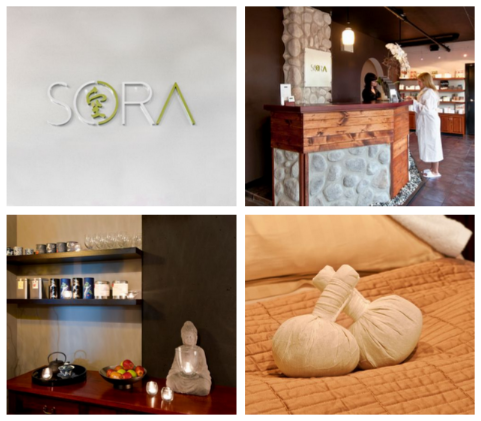 After my massage, we had the opportunity to wander around downtown Victoria.  We stumbled across Mo:Le Restaurant (554 Pandora Avenue), a weekend brunch hotspot on the edge of Chinatown.
Parts of Downtown Victoria reminds me of Gastown, with cobblestone streets, side streets and courtyards full of shops and Canadian tourist boutiques.  We came across many independent boutiques, one of which being Vshoen Boutique, an ethically conscious fashion boutique and the first 100% vegan-only shoe boutique on Vancouver Island.  I also purchased some products from Nezza Naturals which is a family-run eco-friendly company which creates 100% natural body, bath and homecare products.  For dinner, we went to Pagliacci's (1011 Broad Street), a homey Italian restaurant notorious for its hour-long lineups outside on the sidewalk.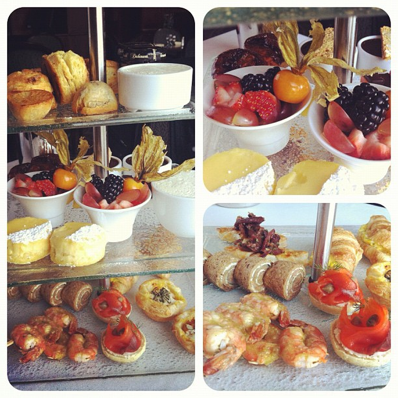 The next afternoon, after checking out, we had reservations for Westcoast Afternoon Tea at the Hotel Grand Pacific.  Unlike a traditional high tea service with a British feel, the offerings at the Hotel Grand Pacific are much more influenced by the ingredients found along the West Coast.  Some of the items included in the 3-tier platter included Free Run Organic Egg Salad, Cowichan Bay Farms Duck Confit & Fraser Valley Mushroom Vol-au-Vent, Poached Wild Spot Prawn Brochette, Smoked Albacore Tuna & Long English Cucumber Pinwheel and the same Thomas Haas truffles and gelees which were in my room the first night I was at the Hotel Grand Pacific.  And of course, several of the tea options were once again from the Victoria-based Silk Road tea company.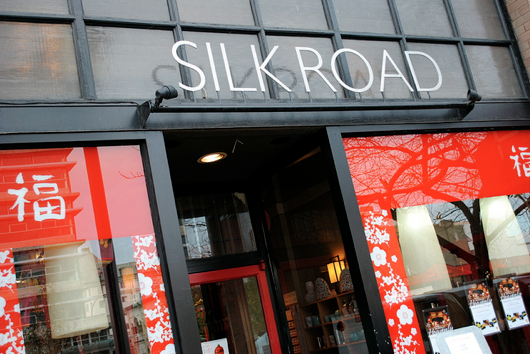 After hearing so much about Silk Road teas, we decided to check out the retail shop in Victoria's Chinatown on our way back to the ferry terminal.  It was quite bustling for a tea shop – Sunday afternoon must be prime shopping time there!  Many shoppers were browsing through tea selections or sitting through a tea tasting, which are a lecture series modeled after traditional wine tasting. Tea tastings cover a wide range of topics, including the cultural and historical aspects of tea, information on tea growing regions, the latest research on the health benefits of tea, and of course, an exploration into the exquisite flavours of tea.
Overall, Victoria is a lovely city to spend the weekend in.  The harbour is beautiful on a sunny day and is comparable to Vancouver's false creek or Yaletown's marinaside.  Staying at the Hotel Grand Pacific meant all the city sights I wanted to see were within walking distance.  You don't need much guidance to wander around the city – just start along Government Street in downtown Victoria, and you'll find your way!