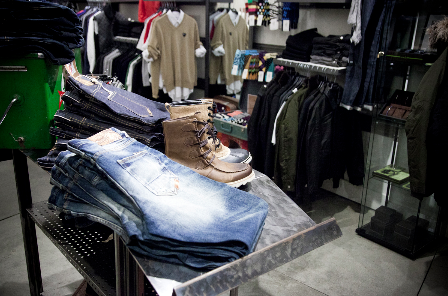 My little man Teddy Bear and I braved the rain and made it out to the Boys'Co event on Robson Street last week, in celebration of their recent rebranding of "It's a guy thing".
Boys'Co (1044 Robson Street) just launched a customer appreciation loyalty program, which is a must-have for anyone who shops at Boys'Co (for themselves, or a lucky someone else) on a regular basis.   Appropriately named the "Loyal Followers of Fashion", the program offers Boys'Co clientele wardrobe consultation and private after hours shopping with a Boys'Co personal shopping expert, complimentary alterations on purchases from the store, and exclusive offers (and surprise offers) for members. There is no fee to sign up, which can be done either in-store or through the Boys'Co Facebook Page, and the loyalty program also awards bonus perks of VIP offers and special promotions.
To launch the 'Loyal Followers of Fashion' appreciation program,  Boys'Co is currently giving out "30 Prizes in 30 Days" (beginning October 18, 2012) where "Loyals" are automatically entered for a chance to receive a different prize for each day of the contest as well as a chance to win the grand prize of a $1000 shopping spree.  To enter, sign up on the Boys'Co Facebook Page at: facebook.com/boysco.
When I am patiently shopping with my guy friends, these are the brands BoysCo carries that I would recommend for the stylish gent: Adidas originals, Alternative Apparel, Hugo Boss, Fidelity Denim, Fred Perry, G-Star Raw, Happy Socks, Herschel, J Brand, J. Lindeberg, Jack Space, Lacoste, Naked, Saxx Underwear, Scotch & Soda, Sorel, Superdry, TOMS and True Religion.
Update: I won the Day 13 prize for BoysCo's 30 Prizes in 30 Days, which consisted of an Adidas backpack and a $100 American Express gift card!