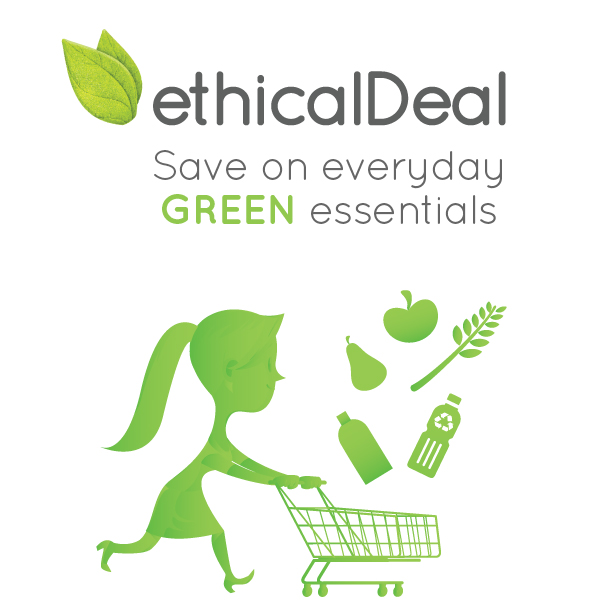 Discover GREENER choices for everyday living with ethicalDeal, a Vancouver based daily-deal site which showcases products that support healthy green living, and offers them at a reduced price so you can try them out! Their mission is to make green living accessible to everyone!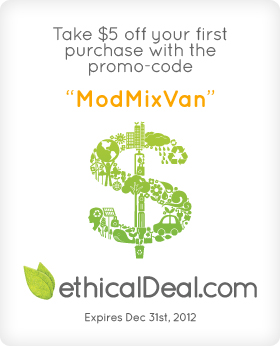 All products featured on ethicalDeal support at least one of four ethical-pillars: cares for the planet, respects animal rights, benefits the community or promotes wellness.
Newly launched in Vancouver is the ethicalDeal Grocery Deals page, where you can purchase everyday green essentials at up to 70% off and pick them up at a grocery store near you! Deals range from food (gluten-free breakfast cereals, vegan chocolate, fair trade coffee, oceanwise seafood) to beauty products (organic skincare, natural make-up) and everyday household supplies (eco cleaning and laundry products). Their current pick up locations include Greens Market, Donalds Market, Famous Foods, Sweet Cherubim, Nourish Market and more are coming onboard!
Between now and December 31, 2012, use discount code "ModMixVan" at checkout to receive $5-off your first ethicalDeal purchase. That's an additional $5-off already reduced prices!
Subscribe to receive the ethicalDeal email notifications and save up to 70% off everyday green essentials. Deals are only available for a limited time and quantity so email is the best way to stay up-to-date!
Follow ethicalDeal on Facebook or Twitter at @ethicalDealVan to access exclusive contests. Check out their blog for healthy recipes and green living tips!