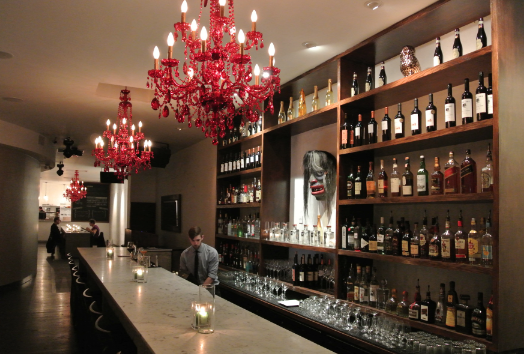 Taste Resto-Lounge (560 Seymour Street) opened last month and is Vancouver's newest hidden dining gem in downtown Vancouver.  The entrance into Taste on Seymour Street is not very noticeable and potentially overshadowed by its nightlight neighbour, Club 560.  As a result, I was pleasantly surprised when the door opened into a long, cavernous restaurant.  The first thing I noticed was the marble-slabbed bar with a vast selection of alcohol against the wall on wooden shelves.  Eye-catching red chandeliers hang from the ceiling and would definitely be a conversation topic at any table.
We were seated in the back portion of the restaurant, where we could watch the chef preparing food in an open kitchen concept.  The dining concept behind Taste Resto-Lounge are the menu items which are meant to be shared – which would explain the long communal table also at the back of the restaurant which would make a great spot for a birthday party or other function.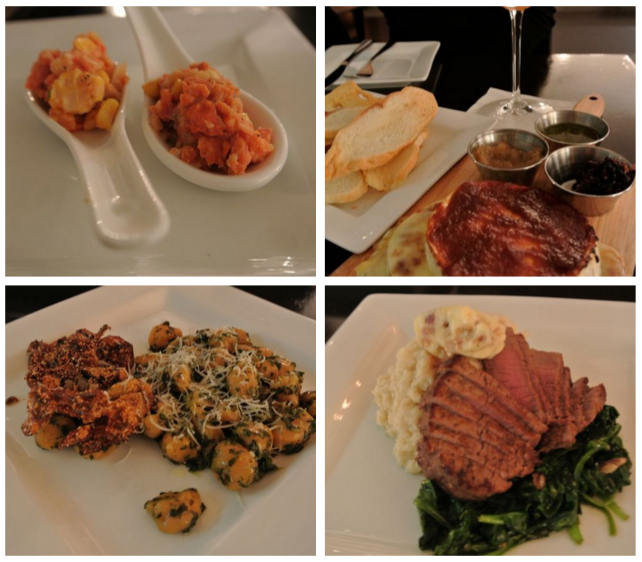 We started off with complementary tasting spoons of salmon and corn, which was a nice westcoast start to our evening.  Beyond the appetizer, we had the option of choosing for our next dishes to come all at once together or in consecutive order.  We went with the latter option so we could focus on the presentation and qualities of each dish.
My favourite was the Hand-Crafted Bacon Chutney Pear and Brie Stack ($14) which came with three dips – fig compote, sticky onion marmalade and chimmichurii and a plate of bread.  I love spreading warm, gooey cheese on bread crisps and then garnishing with the pairings.  If you're a fan of the "Salt Tasting Room" style of eating, you'll love the Brie Stack from Taste.
The Spiced Cornmeal Encrusted Soft Shell Crab ($19) is speckled with cornmeal crumbs which gives the illusion of a crispy shell, even though the entire crab is edible.  This dish comes with yam gnocchi.
The House Smoked Beef Tenderloin ($17) was our substitute for the lamb pops which didn't defrost in time for us to order.  The beef tenderloin came on a cauliflower puree, which had the texture of and looked like mashed potatoes.  I liked that the beef tenderloin was pre-cut, which made it easier for sharing.  Bacon butter topped both the cauliflower and side of spinach.
Overall, the service was good but slow, giving you plenty of time to sip on your drink and nibble through your dishes. I think Taste Resto-Lounge has the potentially to succeed as long as it can get people through its doors.  If you love the experience of sharing food, check out Taste Resto-Lounge at 560 Seymour Street.