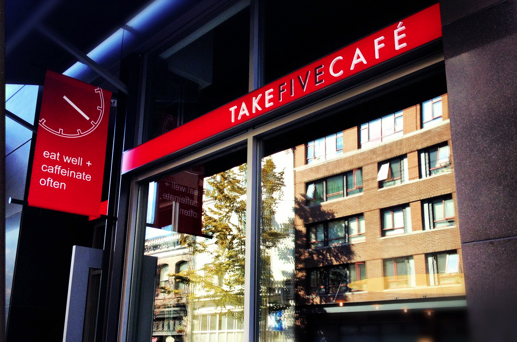 BC-based family-owned Take Five Cafe has expanded and opened their 10th location in Gastown.  It is highly fitting for the Gastown community, with its sleek and industrial interior design to create a very modern look.  Their newest cafe is the second to serve food with wine pairings, taking the coffee experience to a whole new level.  Food menu items include pastas, paninis, and antipasti, which are all freshly prepared using local meats and vegetables, and cheeses and oils from Italy.
The wine list features more than 35 wines and are incredibly well-priced, giving the cafe a competitive edge over neighbouring restaurants.  Take Five's wines are marked up by 100% in comparison with a 200% or even 250% mark-up which can be found in nearby restaurants.  For instance, one glass of Barolo Fontanafredda Serralunga D'alba, Piedmont, Italy 2007, has an average cost of $50 and yet the same glass is sold for $20 at Take Five.  One can also choose to order 2 oz tasters starting from $3.25 or enjoy a variety with wine flights, which are carefully selected by staff and paired with food depending on one's selection and taste preference.  While this is Take Five's second location to offer food with wine pairings, the company has plans to incorporate wine onto menus for future locations as they continue to grow.
Take Five Cafe is located at 62 West Cordova Street (Cordova and Abbott) and is open seven days a week from 7:00am to 7:00pm, closing at 11:00pm on the weekends.