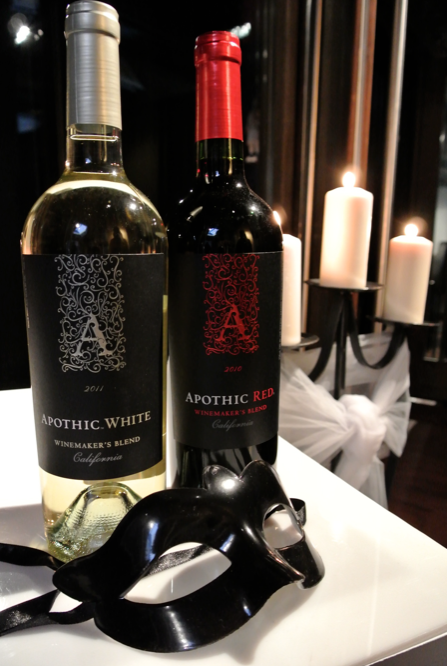 Earlier this month, Modern Mix Vancouver was invited to the Apothic Wine event, celebrating the launch of the Califorian Apothic White wine in British Columbia.  Upon arrival at District 319, attendees were handed theatrical face masks and proceeded to step into a masquerade.
Apothic is a true original. Named for the mysterious place, Apotheca, where vintners stored their most coveted concoctions in 13th century Europe, Apothic blends fuse Old World intrigue with modern sophistication. Winemaker Boyd Morrison lets the character and flavor of each varietal guide the shape of his wines. Apothic offers two enchanting blends that are bold in style and taste: Apothic Red and Apothic White.
Don't judge this wine by its label – although the black label with a tendril pattern conveys a gothic allure, the Apothic White wine was pleasantly sweet with notes of honey, vanilla and pineapple.  I can attest to the tasting notes because I participated in the sensory station at the event where guests were invited to smell fresh pineapple, honey and vanilla, and then try to match the scent with the Apothic White wine.
If you're a fan of sweet wines, Apothic White wine is not to be missed.  Apothic White Wine is available at BC Liquor Stores and retails for $16.95.