8th Annual Taste of Yaletown 2012 (October 17 to 27)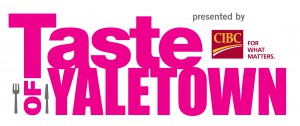 The tastes, treats, sips, sights and sounds of Vancouver's most desirable neighborhood will come alive again at Taste of Yaletown 2012!
The Yaletown Business Improvement Association is proud to announce the 8th annual Taste of Yaletown event October 17 to 27th, 2012. Taste of Yaletown 2012 will feature participation of Yaletown's best restaurants, all offering guests an exclusive three-course tasting menu for set prices of $25, $35 and $45.
Participating restaurants in 2012 include: Bistro Sakana, Cache Bistro & Lounge, Chinois, Glowbal Grill Steaks & Satay, Hurricane Grill, killjoy, Milestone's Grill & Bar, Minami Restaurant, New Oxford, Raw Canvas, Simply Thai, Society, Urban Fare, Urban Thai Bistro, Yaletown Brewing Company, Yaletown L'Antipasto and more to come.  Many of these Yaletown restaurants have been featured before on Modern Mix Vancouver!  To check out their menus, click here.
A portion of profits from each participating restaurant will be donated to The Greater Vancouver Food Bank.