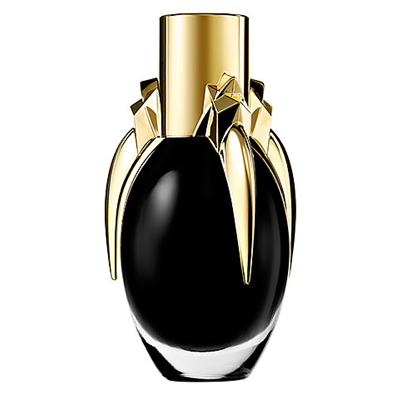 Has anyone tried Lady Gaga's "Fame" fragrance yet? When the Eau de Parfum first launched in September, there were very noticeable window displays at The Bay in Downtown Vancouver promoting the fragrance.  The bottle itself is quite plain – an egg-shaped black bottle with a golden monster claw at the top, without a logo or additional designs.  However, what has made Fame buzz-worthy (besides the fact that it's Lady Gaga's first fragrance) is its innovation in "fluid technology".  The colour of Fame is an inky black in the bottle, but becomes invisible once airborne.
As for the scent, Fame is built around three main accords: dark, sensual and light:
Dark: The dark accord was inspired by Belladonna, the deadly nightshade possessed by haunted beauties since the 18th century.
Sensual: From this darkness, the fragrance evolves to a sensual accord of opulence, a fusion of dripping honey, saffron and apricot nectar.
Light: The light accord whispers magnificence. The rich floral layer of crushed Tiger Orchid & Jasmine Sambac embodies timeless beauty.
Although the packaging leans towards gothic, the scent itself is a sweet floral.  According to Lady Gaga, Fame carries the scent of an "
expensive hookers
".  Not that I would know what an expensive hooker would smell like, but to me, Fame has the scent of a generic fruity floral scent.  Fame retails starting at $39 for the 30ml (1 oz) size and is available at Sephora, The Bay and Shoppers Drug Mart.
Lady Gaga will be back for the Born This Way Ball performance at Rogers Arena in January 2013.