In celebration of Volkswagen's 60th anniversary in Canada, Modern Mix Vancouver was invited to the last stop of the VW free driving tour to test drive new 2013 Volkswagen vehicles, including the Golf GTI, Beetle, Passat and the Tiguan SUV.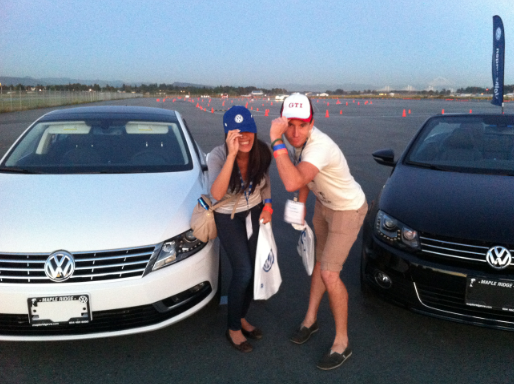 At the VW Free Driving event, past, present and prospective VW car owners were invited to take a tour through the new 2013 cars and then drive them through a test-drive course with a professional driver providing guidance in the passenger seat.  Through a QR code scanning system, your driving statistics were emailed to you after the event so you can see your maximum speed (upwards of 100 kmh in some cases!), course time, as well as watch a video of your facial expessions throughout the experience.
From the perspective of a Vancouver lifestyle blogger, I was attracted to the sense of community Volkswagen offers its current loyal car owners and prospective owners.  For example, movie nights and get togethers hosted by Volkswagen help invoke that sense of community and ownership.  Furthermore, through the Think Blue program, Volkswagen has an active commitment to the environment which demonstrates a corporate social responsibility to give back, which is especially attractive to environmentally-conscious Vancouverites.
In terms of an entry level car for the young working professional, the Volkswagen Jetta is an appealing choice.  The 2013 version is around $16,000 for the base model.  The sleek exterior of the Jetta has gone through some price drops over the year but continues to maintain its sleek, German-engineered style.
For some fun footage from the VW Free Driving Tour, check out the videoclip below: