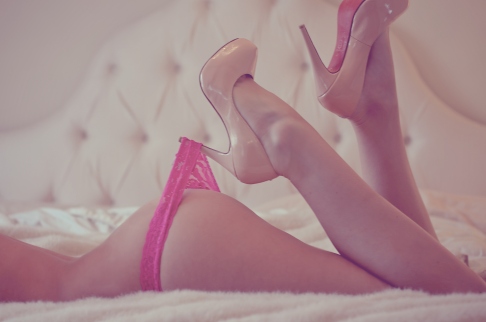 In true celebration for the female form, Boudoir photography has expanded over the years to include everything from full nude shots to classy lingerie features. If you're looking for an excuse to celebrate a workout challenge success or just show yourself little love, a boudoir shoot may just be for you.
Contrary to popular belief, you do not have to be in the best shape of your life to have beautiful, flattering pictures taken of you in the nearly nude. The trick is to find a photographer who is understands what you're looking for. To my surprise, my recent experience with WCK Photography ended up being not only enjoyable but something I look forward to doing again. The most unexpected part of the experience was how comfortable Whitney made me feel in front of the camera. If you think you might be ready to take the leap, here are a few things she helped me consider before the shoot:
Be proud of your assets – The part of your body you dislike the most may actually be your most unique and beautiful feature. That being said, we all have certain body parts we wish were different. If you take the time to share with her upfront, Whitney will help you find ways to focus on the parts of your body you love the most, while thinking of creative ways to help you cover up the rest.
Do your research – This is probably the most fun part. Before your shoot, Whitney will review with you not only her portfolio, but an gallery of boudoir shoot styles, poses and examples that will inspire you to do things you never would have thought of. You would be shocked at how things like blankets, books, or a great pair of shoes can be not only sexy, but a great way to take the focus off a completely naked you.
Think about the things you love – Maybe it's baking, reading, a favorite necklace, or t-shirt. There are so many creative ways to turn it into an opportunity for a great shot. You would be surprised!
Location, Location – Not all boudoir shoots happen in the bedroom. Sure, this feels like a no brainer but you can also consider other places like you're living room, the kitchen, or a your office space.
Bring a Friend – If you're worried about being around an unfamiliar person the very best thing you can do is bring a friend. Having a close friend with me during my shoot was not only the most encouraging thing but a major confidence booster. On the day of the shoot you may be timid or shy, but by the end of the shoot you may be surprised just how much you are willing to show.
Here's the best part about boudoir photography: At the end of the day, you can keep the pictures to yourself, share with a loved one, or flaunt for the world to see. No matter what you want to use them for, you'll have pictures that show off the very best you and that's an investment you can always feel great about.
WCK photography is located in Vancouver and Whitney is available for boudoir shoots at a location of your choice. To book your appointment, or to check out her portfolio online, visit: wckphotography.com/boudoir.