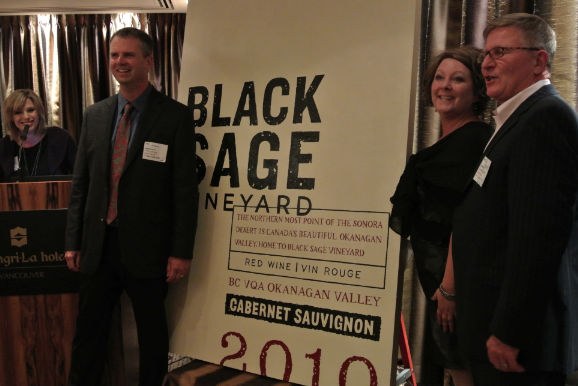 By Joanna Lee, Modern Mix Vancouver writer
After much secrecy and anticipation, Black Sage Vineyard, BC's newest wine label from Vincor International, was unveiled last night at the Shangri-La Hotel in downtown Vancouver. For many years, Black Sage was one of the many wine tiers of BC's Sumac Ridge Estate Winery. No longer is that the case as it is now an independent label producing only red wines.  VIPs from the company headquarters proudly introduced its 2010 vintages – the Cabernet Sauvignon, Cabernet Franc, Merlot, and Pipe (port style wine) – which were smartly paired with three courses and dessert prepared by Shangri-La's Executive Chef, Wayne Harris, and Sommelier, David Tremblay.
Since its inception in 1993, Black Sage has become renowned for the quality of bold red wines it produces. The company decided on re-branding the label after finding consumers were confused by the many tiers of wines and products offered by Sumac Ridge. They now focus solely on producing red wines as they found that the soil and the location of the vineyard, situated in one of the hottest locations in the country, made it less suitable for producing white wines.
Black Sage's bold, juicy, and intensely-flavoured red wines are delicately crafted by artisan winemaker, Jason James, who spoke passionately about the qualities of each wine. He spoke about the Cabernet Sauvignon having black cherry and currant flavours, with hints of eucalyptus and cedar on the finish. The Cabernet Franc has cherry and blackberry flavours with tinges of pepper. Flavours of black fruit, sage, and tobacco are strongly displayed in the Merlot. All three varietals are aged in American and French oak barrels for more than a year to give them its juicy, bold flavours, and are recommended for pairings with meaty dishes, stews, and BBQs. Black Sage also produces Pipe, a port style wine, which is an equal blend of the three varietals and aged for more than three years.
If you are a fan of red wine, be sure to pick up a bottle of Black Sage wine at your local BC Liquor Store for your next dinner party.